Main content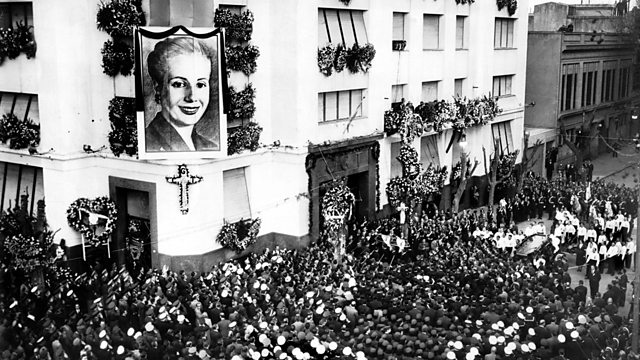 Evita's Odyssey
4 Extra Debut. Linda Pressly tells the stranger-than-fiction tale of the journey made by the embalmed body of Eva Peron. From July 2012.
When Eva Peron, Argentina's most famous First Lady died in 1952, her body was embalmed. Three years later in 1955, her widower, Juan Peron, was deposed in a coup.
Evita was the most potent symbol of Peronism, and military officers feared her corpse could become a rallying point of protest against the new government. So they stole it. It probably spent time in a van parked in Buenos Aires, the city's waterworks, behind a cinema screen, and in the offices of Military Intelligence. But wherever it stayed, it is said that candles and flowers appeared. Clearly a more long-term solution was required...
In 'Evita's Odyssey', Linda Pressly tells the stranger-than-fiction tale of what happened to her body over the next two decades - in Argentina and Europe.
It's an extraordinary story - one that takes in more grave-robbing, kidnap, murder, a revolutionary guerrilla group, and the occult. Through interviews with key players - like the man who repaired the damage to Evita's body when it finally returned to Argentina in 1974 - this programme provides a fascinating glimpse of Argentina before it descended into its darkest and bloodiest days of military dictatorship in the 1970s. It is a story that will stay with you.
First broadcast on BBC Radio 4 in 2012.
Last on

Broadcasts