Main content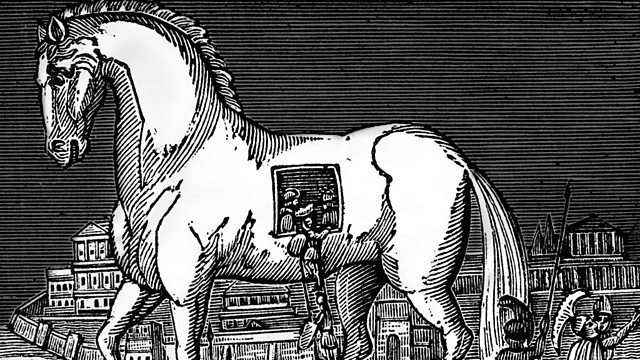 The Trojan Horse Has Bolted
Paul Allen explores the cultural comeback of The Trojans, who lost the war, but won in Rome with the Aeneid, and the myth that English royalty was descended from Brutus.
In the second interval of the Prom performance of 'Les Troyens' by Berlioz, Paul Allen makes the case for the cultural comeback, and continuing importance, of the Trojans. There were on the 'wrong' side in the war that bears their name, but nonetheless when the first Roman Emperor sought a cultural and ethnic ancestry for his parvenu rule, Virgil produced it for him - with the Trojans - in the Aeneid. Even the winning Greeks acknowledge Hector's heroism; he is clearly valiant and noble in Homer's depiction in the Iliad. And in 'Trojan Women' Euripides creates one of world's greatest anti-war plays.
Then, in the 16th century, the myth that English royalty was descended from the Trojan Brutus was conjured up as a way of giving legitimacy to another parvenu empire. Today an heroic race gives its name to a computer virus and is identified by trick played on it by Odysseus. But think of all the tragic heroes and heroines the Trojan side of those epics spawned: Troilus and Cressida (Chaucer and Shakespeare), Andromache (Racine), Dido (Purcell), Priam (Tippett) to say nothing of the man who gave Berlioz his first name. And there are the dodgier characters: Paris, Pandarus.
Paul Allen, with classicists Oliver Taplin (Greek), Llewelyn Morgan (Latin) and Shakespeare expert Carol Rutter, looks to all these in a cultural biography and restitution of the 'topless towers of Ilium.'
Producer: Julian May.
Last on
Broadcast