Main content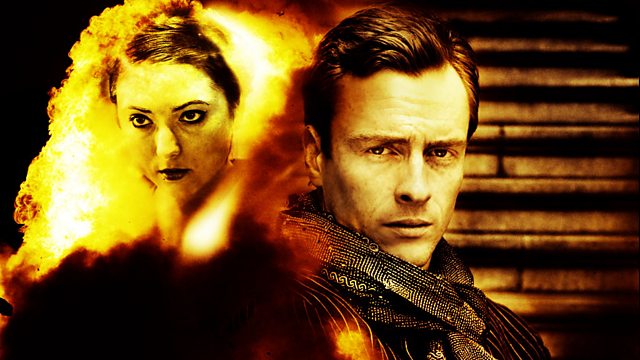 From Russia with Love
4 Extra Debut. The Russians want James Bond dead. Will his romance with a beautiful spy finally cloud Bond's judgement? Stars Toby Stephens and John Sessions.
It's 1955 and the Russians plan an act of terrorism. Choice of target? James Bond. To be 'killed with ignominy': a major sex scandal will leave his reputation, and that of MI6, in tatters.
Colonel Rosa Klebb of the KGB devises a plan to lure Bond into their trap, using beautiful Corporal Tatiana Romanova as bait - plus a Spektor, the latest Russian decoding device. MI6 learns that Tatiana wants to defect and 'M' orders Bond to Istanbul. When Tatiana makes contact she seems to be in love with him - but is she? Either way, he soon falls for her and they leave Istanbul together, accompanied by larger-than-life Darko Kerim, Head of British Intelligence in Turkey. The climax of the drama includes a surprising confrontation between Bond and the murderous Rosa Klebb.
Stars Toby Stephens as James Bond, John Standing as M, Janie Dee as Moneypenny, Julian Sands as Q, John Sessions as General, Mark Gatiss as Kronsteen, Eileen Atkins as Rosa Klebb, Tim Pigott-Smith as Kerim and Martin Jarvis as Ian Fleming.
In writer Archie Scottney's brilliantly evocative 'radio screenplay', we see another side to 007. Unsure of his judgement, can he bring the lovely Tatiana safely to England, along with the precious Spektor? Will the Russians succeed in having Bond killed? If so, who is the would-be murderer?
This is Jarvis & Ayres' third James Bond dramatization.
Specially composed music by Mark Holden and Michael Lopez
Director: Martin Jarvis
Producer: Rosalind Ayres
A Jarvis & Ayres production for BBC Radio 4.
Credits
| Role | Contributor |
| --- | --- |
| General/Rene | John Sessions |
| Kronsteen | Mark Gatiss |
| Major/KGB director/Barman | Jon Glover |
| Rosa Klebb | Eileen Atkins |
| James Bond | Toby Stephens |
| May | Aileen Mowat |
| 'M' | John Standing |
| Moneypenny | Janie Dee |
| 'Q' | Julian Sands |
| Kerim | Tim Pigott-Smith |
| Manager/Conductor | Matthew Wolf |
| Tatiana | Olga Fedori |
| Announcer | Micky Stratford |
| Nash | Nathaniel Parker |
| Ian Fleming | Martin Jarvis |
| Writer | Ian Fleming |
| Adaptor | Archie Scottney |
| Director | Martin Jarvis |
| Producer | Rosalind Ayres |