Main content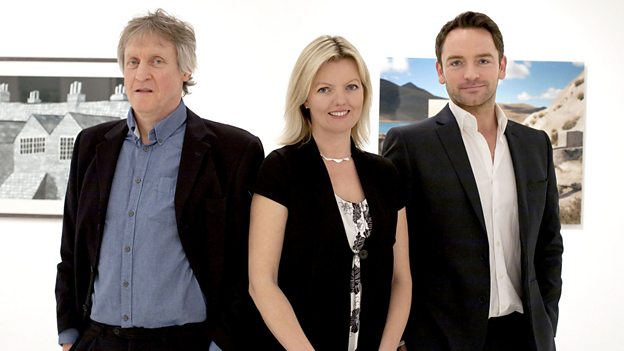 Show Me the Monet
Artists from all over the UK compete for a spot at a grand exhibition and sale
Supporting Content
Presenter: Chris Hollins

From the USA Masters Golf to the World Cup, to Royal Ascot and Wimbledon, Chris Hollins is recognised as one of television's most popular sports presenters.

Talented sportsman Chris can be seen on air Monday to Thursday mornings as the main sports reporter on BBC Breakfast and is also a regular co-host of the show. He is also one of the presenters of BBC One's Watchdog as well as Cash in the Attic for BBC One and Cash in the Celebrity Attic for BBC Two. He is probably best known as the winner of Strictly Come Dancing 2009. Chris was also part of the Royal Wedding coverage team for the BBC.


Before moving to BBC Breakfast, Chris was sports presenter for BBC News 24 and also reported for Grandstand and Football Focus. He began his career at Sky Sports in 1994, followed by spells at Channel One, GMTV, Meridian and Channel 5.



Always up for a challenge, Chris has taken part in BBC One's Celebrity MasterChef and learnt a whole ice skating routine for BBC One's New Year's Eve celebrations! 2009 brought a whole new challenge however, as Chris took part in Series 7 of Strictly Come Dancing for BBC One. With 16 couples, 14 weeks, 654 hours of training and 17 dances to learn, Chris was the only contestant to never be in the dance-off and his popularity with the public finally led to him lifting the glitterball trophy!

Judge: Charlotte Mullins

Charlotte Mullins is an art historian, critic and broadcaster. She studied at the Courtauld Institute of Art and Sotheby's Institute in London and is currently completing her PhD. Charlotte has written widely on contemporary art and her book on figurative painting, Painting People, reveals her ongoing interest in representations of the human form.

 

She has written for the Telegraph and Financial Times and appeared as a regular guest on BBC arts programmes such as The Culture Show and Front Row. She was a judge for the 2009 BP Portrait Award at the National Portrait Gallery and has been a selector for many exhibitions including the Jerwood Sculpture Prize, the Hunting Art Prize and the Discerning Eye exhibition.

 

She has written two art books for children on the lives of great artists, published under the name Charlie Ayres, and is currently working on a follow-up book to Painting People for Thames & Hudson.

 

Charlotte says: "I don't judge art with preconceived favourite styles or media. I do have pet hates however: one is decoration masquerading as art - art should never be wallpaper - and another is when one art-form apes another for no reason."



Judge: David Lee

David Lee is an art critic and historian. He is currently editor of the satirical art magazine The Jackdaw, which he founded in 2000 and produces single-handed. Prior to this he was editor of Art Review for eight years. He also contributes regularly to newspapers such as The Independent, The Guardian, The Times and the Daily Mirror and is regularly interviewed on television and radio programmes.

 

David studied History of Art at Nottingham University and University College, London, and was a tutor in Photography at the Royal College of Art. He has judged many national and local art competitions including the Hunting, NatWest, Royal Watercolour Society Awards and was a selector of The Discerning Eye exhibition at the Mall Galleries in London.

 

He says of his own magazine: "By and large it's pretty critical of many things including the art establishment. It combines serious commentary and slapstick entertainment while publishing opinions other art magazines are too restrained to entertain. Contemporary art is a lot more diverse than the art establishment would have us believe."



Judge: Roy Bolton

Roy Bolton is an art historian and dealer. After studying in Ireland, San Francisco and Oxford he took over one of the Old Master paintings departments for Christie's auction house in London, where he valued, researched and sold thousands of paintings over the last decade. As an auction house expert and art dealer Roy daily critiques art works to assess their artistic and commercial merits, rediscovering nameless masters through the quality of the art they left behind.

 

As a journalist Roy has written widely on contemporary art. As an auctioneer he has assessed thousands of paintings and as an art historian he has written half a dozen books on the history of paintings and artists, from the earliest times to the 21st century. Roy has curated many exhibitions, among them the Young Masters Art Prize.

 

He said recently: "I do not have 'dos and don'ts' about how or why art is created. But art isn't about just being creative - I can make an omelette out of broken glass, it might make me creative but it doesn't make me a chef. Art can be anything and everything, except bad."