Main content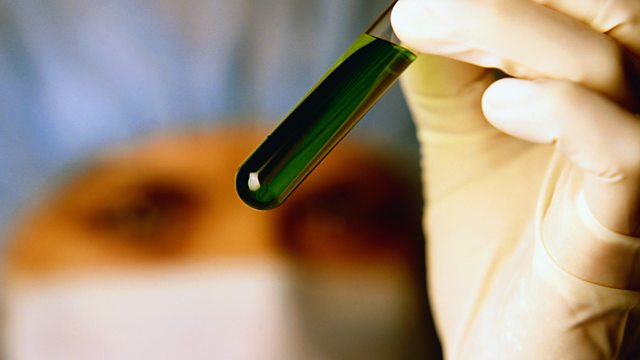 Restraining Patients in Intensive Care
Monty is critically ill, autistic and fighting against life-saving treatment. As his life hangs in the balance, to what lengths should the medical team go to save him?
Monty has double pneumonia and is in intensive care. A ventilator is breathing for him and he's sedated so that he can tolerate a breathing tube in his throat. Given the risks associated with being intubated in this way, the team are keen to get him off the ventilator as soon as possible, so that he can start breathing for himself.
After several days of antibiotics, Monty improves. So they stop the sedation, wake him up, and remove the breathing tube. The plan is for Monty to wear a mask to support his breathing until he is strong enough to breathe for himself.
But Monty is autistic, and as soon as the mask is placed on his face, he pushes it away. The nurses put it back on, but again he bats it off. The nurses persist, but Monty struggles and lashes out at them. Exhausted, he starts going blue. Fearing for Monty's life, the team re-sedate him and put him back on the ventilator.
As his life hangs in the balance, what lengths should the medical team go to to get Monty to accept the life-saving treatment he is struggling against? Should they physically restrain him?
Joan Bakewell chairs the discussion between medical and ethical experts.
Producer: Beth Eastwood.
Last on
More episodes
Previous
You are at the first episode
Programme Transcript
Downloaded from www.bbc.co.uk/radio4
THE ATTACHED TRANSCRIPT WAS TYPED FROM A RECORDING AND NOT COPIED FROM AN ORIGINAL SCRIPT.  BECAUSE OF THE RISK OF MISHEARING AND THE DIFFICULTY IN SOME CASES OF IDENTIFYING INDIVIDUAL SPEAKERS, THE BBC CANNOT VOUCH FOR ITS COMPLETE ACCURACY.
INSIDE THE ETHICS COMMITTEE
TX:  19.07.12  0900-0945
PRESENTER:  JOAN BAKEWELL
PRODUCER: BETH EASTWOOD
Bakewell
Hospital is where we go to get well.  Nowadays we expect to give informed consent for our treatment.  But what happens when a patient actively resists the treatment that will save him?
Welcome to Inside the Ethics Committee.
This is the story of Monty.  He is 29 years old.  At the beginning of this year he was having trouble breathing and was becoming more and more withdrawn.  He was brought into A&E and transferred at once to intensive care. His foster mother picks up the story…
Mum
When I called up the hospital I found that he had been taken to intensive care and he was having big trouble with his breathing and that they were hoping to help him with that.  The fact that I found that he had gone straight to intensive care I found very worrying and indeed I went straight up to the hospital the next day.
Bakewell
The doctor in charge.
Doctor
He had wide spread pneumonia with severe impairment of gas exchange, so he wasn't able to get oxygen into his bloodstream, that had required that he be put on a breathing machine so he had been rendered unconscious to allow him to tolerate having a tube into his windpipe so that we could take over the functions of breathing, including extremely high concentrations of oxygen.  So to all intents and purposes he appeared a young fit adult male tied up to all our usual monitoring equipment with a tube in his mouth connected to a ventilator - a breathing machine.
Bakewell
Monty is given antibiotics to treat his pneumonia.
Mum
When I went and found him in intensive care where he was heavily sedated of course he didn't know I had come, he'd got wonderful nursing staff looking after him who tried to explain to me what was happening - that he was on antibiotics and that they would keep him like this for probably several days and hope that the antibiotics would start to take effect.
Bakewell
The ventilator is currently delivering high levels of oxygen into Monty's lungs and doing his breathing for him.  Once his lungs start to recover from the pneumonia, he will be 'weaned' off the ventilator. The doctor describes what this involves - it has to be a gradual process.
Doctor
We would lighten up the sedation up to a point where he started to be irritated by the tube in his windpipe and cough and then remove the tube and then put him on a face mask oxygen with about 40-50% oxygen and allow him to recover.
Bakewell
After about a week, the doctor decides it's time to wean Monty off the ventilator.  His sedation is stopped and over several hours he gradually wakes up.  But things don't go according to plan.
Doctor
When we lightened up the sedation initially things went as you would expect with anybody else.  He started coughing on the tube, became intolerant of the tube, so we took the tube out but then he fought against the mask.  Initially we tried to dissuade him but he was just fighting out - hitting out at the nurses, thrashing around in the bed, becoming tired so he was using a lot of oxygen, becoming distressed, going blue.  So then we had to put him back off to sleep, put the tube back in - into his windpipe - and reconnect him up to the ventilator while we all sort of took stock.
Bakewell
Delirium and anxiety are common in patients who've been under sedation in intensive care.   But Monty is different. 
Doctor
Even the most delirious patient will normally obey commands, they'll put their tongue out, they'll squeeze your hand if you ask them, they're often agitated - wanting to go home, wanting to get out of bed - but you can normally establish some form of a rapport with them, even if they are delirious or confused and that just wasn't the case here.
Carer
Monty lives in a residential care home.  He has a severe learning disability and autism.
Bakewell
Monty has been in a care home for those with disabilities since becoming an adult.
Carer
Autism in Monty's day will mean that he completes repetitive tasks, he wants to see his surroundings in a certain way and he's unaccepting of the changes to those.  Within the hospital environment in a new setting Monty typically reacts by wanting to investigate and seek the rules for which parts of that he can order to his own satisfaction, so we expected him to open and close doors, we expected him to turn lights on and off, we expected him to unintentionally disrupt lines and tubes.
Mum
I knew that he would use his hands to pull at any tubing whether it was his oxygen mask or whether it was his drips, just because they were foreign to him.  But he was not very likely to understand if you ask him not to do it.  But I tried to explain to the nursing staff that he can understand very simple instruction, such as No Monty, he might register things like that but not big long sentences.
Doctor
There was no way of establishing a rapport with Monty.  He was non-communicative, he didn't like people touching him and he didn't like anything actually on him, none of which we really were in a position to provide for him in a busy open intensive care unit and clearly what he didn't want was a mask on and he demonstrated that by repeatedly taking it off and there was no way of persuading him to cooperate with treatment.
Bakewell
Well now it's time to find out what our panel of experts think.  They are:  Dr Gilbert Park, Consultant in Intensive Care at North Middlesex University Hospital;  Deborah Bowman, Professor of Ethics and Law at St George's Hospital, London;  Catherine Plowright, a Nurse Consultant at Medway Hospital and a Professional Advisor at the British Association of Critical Care Nurses and Professor Tony Holland, Chair in Learning Disabilities in the Department of Psychiatry, University of Cambridge.
Well now we've heard that Monty is autistic, so what would it be like for him to be in intensive care?  Tony Holland.
Holland
It would be very traumatic for him to be in that situation.  Of course many people with autism find change and strange environments particularly difficult.  And as was described he may really have relatively little understanding of why on earth he's in that situation and may not understand what people say to him, so it's a very strange and anxiety provoking environment for him.
Bakewell
Gilbert Park, we've heard that he's sedated and that he's on a ventilator but why would the team have sedated him?
Park
When you can't breathe you need to go on a breathing machine to help you and you need to be connected to that.  In Monty's case he has a tube that goes from his mouth through his voice box into his windpipe and that's very unpleasant and stimulating and if he pulls the tube out, of course, then there's all sorts of risks - can't breathe - associated with that.
Bakewell
Now when I say sedated he's being asleep isn't he?
Park
That's right.  We're rather careless about the use of the word sedation and whether it means putting people to sleep, whether it means treating anxiety or treating pain from a tube in your windpipe.
Bakewell
Catherine Plowright, when people come round from sedation they are often delirious - why is that?
Plowright
A lot of patients are very delirious because they're confused, they're in an alien environment.  They quite often have no sense of reality in the initial few hours of when you do waken up.
Bakewell
Gilbert Park, have you experienced that, have you seen that?
Park
Oh that's very common indeed.  When I worked at Addenbrookes we used to go and see all the patients who had been discharged from intensive care and about 50% of them had some form of delusional memory that probably came from that period and in some it was seriously distressing to them.  A lot of them were to do with murder, theft and the importance of these memories is they are as real as I am sitting here with you today.
Bakewell
Catherine.
Plowright
They often think they've been in ships or aliens have taken them, regularly hear those conversations from people.
Bakewell
Gilbert.
Park
We know that Monty is in the middle of a general intensive care unit which will be noisy or have lights throughout the 24 hours so you become disorientated in time as well as space because there's no night and day.
Bakewell
Goodness, well we know that Monty is autistic, now how will that impact?  Tony Holland.
Holland
Well I think the added difficulty for him is that he can't call upon the resources that most of us can call upon as our mind clears, if you like, because he may not be able to understand what people say to him in using spoken language and he almost certainly cannot communicate how he's feeling or whether he's in pain or whatever.  So you've got the two components - you've got what anyone might experience plus this added complication that comes with his autism.
Bakewell
Right.  Deborah Bowman, now what are Monty's rights here?  He's pulling at his mask.
Bowman
The first question really is whether he has capacity to make some choices and that seems unlikely.  Often in an intensive care environment we're taking away people's capacity, either because they're acutely unwell and/or because of the treatment that we offer.
Bakewell
Wait a minute - capacity - will you just open up what that means?
Bowman
Absolutely.  Okay.  Capacity, as defined by the Mental Capacity Act, really refers to somebody's capacity or ability to understand sufficiently to make a decision, to remember what they've been told or what's going on long enough to make a decision and to weigh that up.  And maybe because Monty has autism it doesn't mean that he automatically lacks capacity, it's separate from any diagnostic labels, so it's really about how he functions.
Bakewell
How are you possibly going to be able to assess that?  Tony.
Holland
It's important to emphasise here that the Mental Capacity Act is very clear that capacity is decision specific.  So one of the tasks for the nursing staff I think here is to say what is it that we require him to understand and how can we help him understand that?  So that might be the issue about his ability to understand the need to keep on the oxygen mask, for example.  And the other point is there are two components - there's the lacking of capacity that comes with the use of sedative medication to put him to sleep, if someone's unconscious they clearly lack capacity and then there is the component relating to his autism and severe learning disability.
Bakewell
Gilbert.
Park
It's a very difficult situation this, it's one that's common in the ICU with critically ill patients and certainly my approach is to sit down and talk with the relatives, to talk in this case with Monty's carers and also the general practitioner to try and get an overall view of what his level of capacity and competence is before he became ill, that's the key thing for us - can we get back to a normal situation where he is competent or is he lacking capacity?
Bakewell
Right, well let's re-join Monty's story now.
He has been unconscious and on a ventilator for over a week - though he no longer needs it from a medical point of view.  They want to get him on the mask which will help restore the strength in his weakened lungs.  But Monty's reaction to it, coupled with his learning disabilities, are a worry for the team.  Does he have the 'capacity' or the mental ability to refuse treatment? The learning disability nurse at the hospital seeks the opinions of those close to him, including his foster mother who raised him from the age of two.
Mum
He didn't notice that if you took the mask off the breathing became difficult or the oxygen levels fell so it was very alien to him and very difficult, if not impossible, for anybody caring for him to explain it in a way that he would understand that all this was important to getting better.
Bakewell
The Learning Disability Nurse on the team
Learning Disability Nurse
So we then had to move to well he lacks capacity in this area.  So what we then decided was we had to work in his best interests and that meant obviously taking into account his likes and his dislikes and still working with family and carers who know him well but the most important part is saving his life.
Bakewell
The team - working in Monty's best interests - decide to try again.  But this time, they give him a different sedative, simply to reduce his anxiety when he's woken up and given the mask.  The carers also come up with a plan.
Carer
That for us entailed distraction techniques, notably music.  Monty likes classical music, he only likes Thomas the Tank Engine and Monty can also use twiddlers - so they're things like pens that he can rotate between his fingers.
Learning Disability Nurse
We got two carers that knew him really well to be with him at all times to talk him through what was actually happening to keep reinforcing - you need to have this on Monty, this is why you're doing it and reassuring him.
Doctor
We allowed him to lighten from the sedation again.
Learning Disability Nurse
We was even sort of showing him the mask, like object of reference, we're playing his music.
Bakewell
But despite everyone's best efforts - including the  medication that's meant to  keep him calm - when Monty wakes up he rejects the mask.
Carer
He tried to pull that off, he tried to pull out his tubes.
Learning Disability Nurse
He was fully getting up from the bed, it was taking people to hold him down, he was just completely hands on face the whole time, refusing.
Bakewell
Monty turns blue.  The team knows that without adequate oxygen he could die.  They're back to square one - Monty is rendered unconscious again and reattached to the ventilator via a tube down his throat.  He has now been on a ventilator for 10 days.  His doctor is concerned, and for good reason.
Doctor 
The longer that breathing tube is in the more likely you are to cause damage with the physical presence of the tube to either the voice box or the windpipe itself.  There's also the fact that you don't cough, the sedative drugs that we give you to make you tolerate the tube impair your ability to clear your secretions, so the longer you're on the ventilator the more likely you are to get a pneumonia that we've give you, rather than the one that you came in with.  And also if we're doing all your breathing for you those muscles will become weak and ultimately it will prolong the process of you getting off that breathing machine.
We were on a sort of unwalkable tightrope, whereas on the one hand he was too lightly sedated and then he was removing his oxygen mask, he was striking out and pushing off at the nursing staff or on the other hand he was over-sedated, not breathing adequately, not protecting his airway.
Bakewell
The medical team are at a loss.   Monty has little opportunity to adjust to the alien environment of the hospital except in those few hours when his sedation is stopped to try the mask. 
Mum
On one of my visits he opened his eyes very firmly and - ah you've come, nice to see you mum, that's lovely - in his eyes I could see that.  So he was aware but the sedation was such that he just floated in and out really.
Doctor
We were starting to be concerned about the fact that what we were doing was very restrictive.  We had a discussion about what was the best next step really.  There was an argument in favour of just doing a tracheostomy, so making a hole in the front of the neck, essentially a direct connection between the windpipe and the outside air, which would be much more difficult for him to remove and then the patient can be non-sedated, interact with their environment but they can't talk.  We didn't know how important his voice was to him, we know he didn't speak but we were told by his carers that he did use sound.
Carer
Monty has a range of vocalisations - happy noises - that indicate when he's satisfied with his immediate life.  Monty has so few ways of telling us how he feels or what he wants, to remove one of those means would be detrimental and put more and more emphasis on being dependent upon staff support to anticipate or interpret his wishes.
Doctor
We also had a concern that he'd manage to pull the tracheostomy out and then cause damage or cause bleeding into his airway.  So there were a lot of negative feelings.
Bakewell
The team are desperate for a solution.  Monty has been on the ventilator unconscious for two weeks now, with all the inherent risks.  The team discuss the options.  They decide to try the mask for a third time…. but this time with slightly less sedation to give Monty's lungs the best chance of coping.  Once again, he fights against the mask while the nurses and carers try desperately to stop him.
Doctor
He was actually getting very tired because he was fighting against a variable force, the nurses were having to hold him down, there's a risk to him, there was a risk to the nurses and so we then ended up back on the ventilator.
Bakewell
Back to our expert panel now.  Gilbert Park, explain why it's important to get him off the ventilator.
Park
Being on a ventilator with an acute infection for longer than you need to be has with it significant risks.  As you heard the risk is that you get another pneumonia from the bugs that are around you in the ICU and in your body that get down into your lungs alongside the tube that we put into your windpipe and you get a second pneumonia.
Bakewell
So the situation is getting worse.  Now Tony, the team say that he lacks capacity, so they had to act in his best interests but who is determining best interest?
Holland
I think a combination of things.  So first of all there is the issue about what is the right medical decision in this situation and it seems to me that is actually relatively clear - at some point he has to come off the ventilator.  But perhaps the issue more here is how do you do that.  Now therefore I think under this concept of best interests you'd have an obligation to consult with those that know him best about him and his past life and so on to help inform the process of coming off the ventilator.
Bakewell
Deborah, how are we to know that in some way he isn't deliberately saying I don't want this mask, I've made a decision not to have the mask and I want it off?
Bowman
We don't know that and I think it's a very important question to ask actually.  If somebody is non-verbal but is demonstrating by their actions repeatedly that they are objecting to something at least one has to give pause to what one's doing.  Having said that we have heard from his carers and his family who know him well he doesn't appear to equate the mask with his long term wellbeing.  And so I guess for me on the balance of probabilities it's more likely that it's an instinctive reaction to the mask than a refusal of treatment but we can't know that and I think we're right to ask.
Bakewell
They've already mentioned the possibility here of tracheostomy, why does that suggestion come up?  Gilbert.
Park
The tracheostomy is just a small incision made in the front of the neck that goes down to the windpipe and put the tube into the windpipe through this hole.  What that does is it removes the irritation of the tube going through the mouth and you can then wake patients up and you can secure the tracheostomy tube lower down in the neck, where it doesn't irritate them as much.
Bakewell
That sounds quite a good idea.
Park
It is a surgical operation so it's not risk free but here we're into balancing the risks.  Whatever they do will have a risk.
Bakewell
Now whenever Monty surfaces he's only experience in the ward and the treatment he's getting is of people of grappling with him.  Catherine, it can't be good for his state of mind. 
Plowright
I think it would add to his overall state of mind and his delirium and we did hear earlier on that he was nursed in a busy intensive care unit and I think as a nurse we'd maybe have to consider where Monty was actually nursed if he was in a side room which was quiet and had familiar people that he was used to, with some of his familiar music and perhaps favourite toys around him, that might just help calm him down and try and limit the number of people who do interact with him, as well as his usual carers and family.
Bakewell
Deborah, the actual undertaking of all medical behaviour is do no harm - is there harm being done to him by the decisions they've taken?
Bowman
The doctors involved described it as unwalkable tightrope and I think that - that really does sum it up.  Although it sounds lovely and simple - do no harm - actually a lot medical intervention has either the potential or will have some side effects which are negative.  I think what is happening here is a negotiation of what it means to do good and weighing up the harms that will be done in the context of doing that.  And one of the things that struck me was in talking about the tracheostomy the team were talking about the effect of the tracheostomy further down the line on Monty's life, i.e. his ability to vocalise.  So although they quite rightly talked about the medical side effects they also recognised the implications for Monty and his life - but I think it's not going to be possible to not do harm.
Bakewell
Tony Holland, what's going on in his mind, we don't know do we, we have no access to what he might be thinking and feeling?
Holland
What we don't know is whether he has any concept that what is happening to him is in order to save his life, if you like, and we don't know whether he has any understanding at all that by not having the oxygen, for example, he puts his life at risk.  I mean autism these days is seen very much as a spectrum and people will know the term Asperger's Syndrome of being one end of that but Monty perhaps represents that group at the other end who clearly have autism but also have very significant learning disabilities and it may be the learning disabilities that are also very problematic here because it's affected his ability to understand and to express things, certainly verbally, he may be able to understand using other means or at least have some level of understanding.
Bakewell
Gilbert.
Park
I think one of the other concerns that the team have mentioned here is the risk to the team.  This is a young man who is presumably physically quite strong who is thrashing about and thrashing out at the staff.  And so they've got a problem that a member of staff might actually get injured during one of these weaning periods as well and you have to take that into account as well I think.
Bakewell
And what are the risks to staff - are you familiar with them?
Plowright
Most nurses and doctors in intensive care are probably familiar with them - it will be a thump here, a punch there, you may get nicked or bitten, yeah.
Bakewell
Right, well we'll go on with the story and see what happens next.
Monty has now been on the ventilator, unconscious, for 15 days.  The medical team and carers are running out of options.  They begin to consider physical restraint…actually tying Monty down.
Doctor
We started having the debate amongst ourselves about what the next step was.  Clearly physically holding him down by using the nurses was a risk to the nurses but also because he was fighting against something that you could move he was actually using up quite a lot of energy and getting tired.  And my rationale was if he's got something that allows him movement but only in certain directions and then won't allow him any movement in the direction that we didn't want him to move in then that was likely to be more successful.  So then we started having the conversation about well let's physically restrain him which for a British intensive care unit is something that's culturally very difficult.
Bakewell
The team need more information on this kind of physical restraint. They ask everyone they can think of, including a nurse who'd written the guidelines for the hospital.
Nurse
The consultants had discussed on a ward round that they were considering that this patient may need physical restraint and so they asked me to come and review him, that if they made that decision then we would have all the equipment and the appropriate practices in place to be able to do that successfully.  What we looked at was the wrist restraints, essentially a mini-belt around your wrist, tied to a fixed point on the bed, on either side, they do allow some movement but not enough to go up to his face.
Doctor
Although he would be essentially tied to the bed we were actually being less restrictive than what we were currently doing which was sedating him to the point of unconsciousness, where he couldn't even interact with his environment whether he liked the environment or not.
Bakewell
The Learning Disability Nurse could see his point.
Learning Disability Nurse
When he was trying to take the mask off the ward staff would obviously move his hand away.  Now this is obviously a form of restraint because you're holding somebody's hand down whereas these restraints they're keeping his hands at a level where he can't reach his face but he has got the movement to his chest area and because these were elastic we thought that that would be good for him because he does like a repetitive movement up and down, up and down, but not enough to get to the mask.  So that was something that we felt might be a good thing.
Bakewell
While the idea of tying Monty down is unusual, some degree of physical restraint is a normal part of medical practice.
Doctor
We use physical restraint not infrequently in intensive care in that as people are waking up the nurses will move their hands away from bits of kit if they think the patients going to endanger themselves.  It's not uncommon, particularly in head injury units, to see people's hands being sort of shrouded in things that look a bit like boxing gloves, that allow you to move your arms around but you can't actually grip anything.  We tried that with Monty the second time but even with those he was able to get his hands together up to the mask and rip the mask off.   The use of boxing gloves is reasonably widespread but actually physically restraining somebody by tying them to the bedrails is quite uncommon.
Bakewell
In fact sedation - that's chemical restraint - is by far the most commonly used method in British intensive care units. In contrast, many other countries favour physical restraint, and try to minimise their use of sedatives.
Nurse
It is used frequently in other parts of the world, primarily America, Australia, New Zealand and various parts of Eastern Europe and Greece, Japan have very high rates of physical restraint.
Doctor
In Germany patients are essentially - shackled seems a bit harsh - but tied to the bedframe.  Colleagues in Australia comment on very similar things - patients essentially being awake on the ventilator but being restrained in a way that they can't actually interfere with treatment.
Bakewell
Tying a patient to the bed is so rare in British intensive care units that there's little information to guide its use, as the nurse that wrote the guidelines at the hospital discovered.
Nurse
Very few of the trusts actually had guidelines or policies about physical restraint and the ones that did they didn't have any numbers on how many patients were ever restrained and it was done on a completely ad hoc undocumented way.
Bakewell
So should the team tie Monty to the bed?  Many of the nursing staff feel extremely uncomfortable.
Nurse
Physical restraint is a difficult nursing dilemma, mainly because it looks so unkind, like a patient is not cared for and so the nurses did feel a bit hesitant in using them.  And also when you have wrist restraints on we have to take them off at least once an hour to look at somebody's skin condition and therefore we're increasing the amount of people that are around him which we knew was going to increase his anxiety.
Bakewell
Monty can't make the decision for himself so the team must act in his best interests. Those close to him are consulted, including his foster mother.
Mum
I did nurse a long, long time ago and in those days I had seen restraint used, quite often really and whereas it's not nice to see somebody's hands tied to the side of the bed I felt it was something that was really the only way forward, to keep him safe.
Bakewell
But there are others who feel differently.
Doctor
There was quite a worry about what visitors and the other patients would think if they saw somebody who was clearly agitated in an open ward tied to the bed.  The ones who'd been involved with the restraint policy saw this as a good thing to do, that was at one of the end of spectrum and the other end of the spectrum thought it was a terrible thing to do.  But I think everyone was agreed that what we were currently doing wasn't working.
Bakewell
Monty has by now been sedated on the ventilator for over two weeks.  He develops a lung infection and begins to deteriorate.  Once again he needs to stay on the ventilator for medical reasons.  But it's now essential they have a plan in place to get him off the ventilator as soon as he improves..
So what do my panel of experts make of that?  Physical restraint - Deborah, what is the legal situation about that in this country?
Bowman
There's no specific law that says physical restraint is or isn't acceptable, what we're looking at really is the basic law relating to capacity, so has somebody got capacity to agree or not, if not is it in someone's best interests to restrain.  Having said that when I spoke to colleagues about it the reaction to this restraint is quite different from their attitude towards chemical restraint - it is perceived as distinct, even if it isn't legally treated as such.
Bakewell
Because it sounds as though you're assaulting another person doesn't it?
Bowman
Yes and absolutely, if you were doing it without consent, if you were talking about a capacitous person, or against the interests of someone who lacked capacity, absolutely one could be subject to the law of assault and battery.
Bakewell
So are people fearful of it being alleged that they're abusing patients?
Bowman
Absolutely and quite rightly and of course there are safeguarding procedures as well in relation to vulnerable adults.  However, may sense is that people's concerns are not defensive ones about litigation, they're actually much more morally visceral - that they have an ethical distaste for physical restraint.
Bakewell
Catherine, do you?
Plowright
Me personally or...?
Bakewell
Yes I want to know what you feel about this.
Plowright
Personally I have a moral distaste for restraint and I would really struggle if I had to nurse a patient on intensive care who we had to physically restrain.
Bakewell
Tony.
Holland
We've accepted that he lacks the capacity to make this decision for himself about whether to keep the mask in place.  So the question is what is the harm that is going to come to him?  Well the harm is likely to be death and what the Mental Capacity Act says here is that any restriction - and restraint being a form of restriction - must be proportionate to the seriousness of that harm and the likelihood of that harm.  So I think we can start here by thinking to ourselves - some form of restriction in order to minimise the risk of harm is certainly justified in this situation.  And one would argue there is in a sense a duty because your duty is to act in the best interests to get this man off the ventilator with the real expectation that he will get back to a normal life.
Bakewell
Now does his autism affect the degree of his response to being physically restrained?
Holland
Well it's very likely that he will find that problematic.  So you're going to ask yourself - how can we try and communicate to Monty what we are doing in order to try and help him?  So you know you're going to - as they have done and I think very impressively - they've had people he knows, one would look to using pictures, you might want to get a speech and language therapist involved and so on.  So there are a number of strategies of which some form of restriction and including restraint might be part of.
Bakewell
Gilbert, what do you think about the physical restraint in intensive care?
Park
Physical restraint and chemical restraint - sedating them if you like - is always a balancing act and I'm sure that there are patients in whom physical restraint is the right thing to do and there are also patients in whom chemical restraint is the right thing to do.
Bakewell
How has this situation arisen because we've heard from Monty's mother that in the past she remembered physical restraint being used and accepted?
Park
Restraint was common in psychiatric and care institutions.  In the ICU we tended to use chemical restraint, we tried to put people off to sleep so they didn't remember it.  And now in psychiatric institutions and care homes there's a move away from physical restraint and into the ICU where we're trying to keep people more awake and we're visiting physical and chemical restraint in different ways in the critically ill patient.
Bakewell
But isn't it odd that the British are so resistant to the idea of physical restraint when other people use it across the world?
Park
There was a one day's study done throughout Europe and the UK had less than 1% of its patients restrained, whereas if you go to Portugal on the same day with the same sorts of patients in ICUs it was 46% were restrained.  So a lot of this is cultural.
Bakewell
Why are we so reluctant?
Park
It's very difficult to see a fellow human being tied to the bed apparently suffering and resisting.  Some people come to terms with it, clearly the Portuguese do and they can look at patients and say we're doing this in your best interest.
Bakewell
But wait a minute aren't we being oversensitive - I have a visceral reaction to seeing someone use a knife and body open but this is the medical profession, they've got to rise above that?
Park
One would hope so but we haven't managed that yet I don't think.  And the other problem is the evidence - where is the evidence that tying someone to the bed is actually better than chemical restraint?  I think one of the problems is there is no good evidence one way or another which is better.
Bakewell
Now Catherine, physical restraint itself carries risks to a patient, what might those be?
Plowright
One of the [indistinct word] earlier talked about having to check the integrity of the patient's skin on a one or two hourly basis because you can develop pressure sores, cuts and grazes and things which could then cause further difficulties.  So Monty would have to be unrestrained on a regular basis throughout the day.
Bakewell
Can I just say that we've got someone here who's at risk of dying and he doesn't have capacity - to me it seems common sense to use physical restraint at this stage - is that outrageous Gilbert?
Park
No I don't think it is, I think the team here have tried many different ways of managing it and I think chemical restraint has its risks at this point as well, in that Monty will be still, he won't cough, the immune system is affected by the drugs you will give him, so again you increase the likelihood of him getting a pneumonia.  But there's one other factor that's quite important - the Liverpool Group here looked at patients who had been restrained and they found that they didn't actually remember it.  A few of them did, they weren't particularly upset about it, so I think we've got to balance the evidence for and against both at this time because you've got to do something here.
Holland
For me what's distressing is here's a person who is being sedated, woken up, sedated, woken up - that is going to have a much more serious long term effect on him.  So it seems to me we've got to grasp this nettle, there is no question here - he needs to come off the ventilator and somehow that has to be achieved.
Bakewell
But there is also the issue of depriving people of their freedom isn't there.
Holland
That's an important issue here.  The Mental Capacity Act allows you to restrict, it allows you to restrain providing it's proportionate and it's preventing harm.  Now there is an issue about whether restrictions go beyond just restrictions into what is termed as deprivation of liberty and I think that is an issue that does need to be discussed by the team.
Bakewell
Deborah.
Bowman
Yeah I think Tony's absolutely right.  I think the other thing that I would say is actually it may be possible to decide that you are going to proceed with restraint but to do that in an ethical way, that there are things that you do that make it a more considered and more morally justifiable decision simply by the nature of the way you make the decision and that you put in place as many minimising variables that will help make this not a positive experience but as minimally harmful as it can possibly be.
Bakewell
Right it's time now for you to declare what you think should happen in the case of Monty.  Deborah Bowman.
Bowman
I think, given the efforts the team have made, I think restraint done properly and with attention to the other factors that might be modified is acceptable.
Bakewell
Gilbert Park.
Park
For Monty I think I would use physical restraint but I think I would also do a tracheostomy at this stage as well.  I think it's in Monty's best interests to get him off the ventilator.  If you fail again you're going to set him back and I think the use of a tracheostomy will remove the mask from his face, it will enable you to give oxygen away from this sensitive area and restraint.
Bakewell
Catherine Plowright.
Plowright
I think restraint as long as everybody who's involved with Monty, from his carers to his foster mother all the nurses and all the doctors who are looking after Monty, as long as they were all happy, are engaged fully in the decision making then restraint but also having the option if they didn't want to care for somebody who was being restrained that they could also say I don't feel happy to do this.
Bakewell
So the nurse could opt out...
Plowright
Yes.
Bakewell
... if she felt she couldn't do that?  Okay.  Tony Holland.
Holland
I think I would accept that restraint may be necessary as part of a best interest decision but it should only be there in the context of all other things that might be done to help Monty understand what it is that is being asked of him.  My concern, I have to say here, is that it should be for the briefest period of time and that you should think about how are you going to get him out of bed and back home as quickly as possible, so he's back in a familiar environment.
Bakewell
Alright, let's discover what actually happened.
Monty has been unconscious and on the ventilator for over two weeks but finally the team manage to get his lung infection under control.  The decision is made to try the mask again - this time tying Monty's arms to the bed. 
Doctor
One of my colleagues had actually worked as a trainee at a unit that did use restraint, so we managed to get hold of the catalogue number, essentially, of the correct restraints.  Then we had to order those in, so he was sedated for another 24 hours while we waited for the right restraints because I thought if we're going to do this we ought to do it properly.
Nurse
I spoke to the nurses that were actually caring for Monty and made sure that they were happy and comfortable with the equipment and were happy at what they had to do.
Doctor
Then we moved him into the side room, which had the dual, if you like, bonus that he was in an environment that we could control much more than the open unit, we could have it a bit dark, we could have his Thomas the Tank Engine and the classical music in the background, it also removed the anxiety of what other people would think when they saw him.
Nurse
We put the wrist restraints on him, attached him to a fixed point on the bed, the doctors were present, the nurses were present.  We did not know how this was going to be, we did not know how Monty was going to be when the ventilation was stopped.
Doctor
And then essentially we repeated what we'd done four times before, which is to remove the sedation, take the tube out but then put an oxygen mask on him in the knowledge that he couldn't get to it and remove it.
Carer
When he realised that he had restricted movement on his hands he did struggle and fight against those but once he'd realised that the movement he had was insufficient to remove his mask he actually accepted that he wasn't going to, it was almost like it was a new situation and there was a new rule for it.  That rule meant that he had to keep the mask on.
Bakewell
Unfortunately after weeks unconscious on the ventilator Monty's lungs were simply too weak to cope with the mask.  And after two days he was re-sedated and ventilated.  The team finally decided to fit him with a tracheostomy so that he could be awake while his breathing was supported via a tube in his neck.  Restraints were used for 12 hours as sedation wore off, and Monty didn't object.  The tracheostomy was in for two weeks…and it was removed when his lungs were strong enough to function on their own.
His foster mother speaking in the spring.
Mum
The great, great joy now after sort of nearly 10 weeks he's moved back to his home, he's a bit unsteady on his feet, of course he'd lost an awful lot of weight.  I had a lovely visit with him when we were able to go out and he ate a very good lunch with a smile on his face all day long that life was well and happy again.
ENDS
Broadcasts

Podcast
Joan Bakewell and a panel of experts wrestle with the ethics of a real-life medical case.