Main content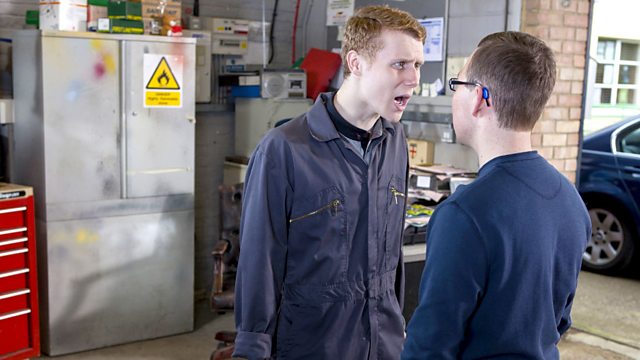 12/07/2012
Jay struggles to cope with his grim discovery and makes a decision that could affect his life forever; but will someone prevent him from going through with it?
While Ben sleeps, Jay checks the photo frame stashed in his rucksack. At the Arches, Jay confronts Ben; he knows about the frame. Jay's determined to end things, takes the frame and strides off. He stops when a car horn blares – it's Ben. Ben peals towards Jay, braking at the last minute. Ben pleads he'll turn himself in, but flees when Jay relinquishes the frame. Jay trashes the burger van, pushing Lola. Ben removes the photo, stowing the frame in a bin bag. He finds Amy clutching the photo. Ben tells Shirley he and Jay have rowed, coaxes the photo from Amy and rips it up. Ben threatens Jay could be incriminated if he doesn't support him. The boys discover the bin bag containing the frame is missing.
Zainab's impatient for AJ's departure. AJ wants lunch at the Vic. They discuss AJ's wife, Aliyah, and past clashes with Zainab. Denise pays the Masoods' bill when AJ can't. Zainab accuses Denise of flirting. AJ confesses to Denise his wife left him but he can't tell Masood. Denise reveals Masood and Zainab are divorced. Masood discovers AJ in the café; he admits Aliyah's left him. Masood insists AJ stay with them.
Kat checks her secret mobile, announcing she's going to Kimba. Jean says Kimba's been cancelled. Kat wants to start an evening class but Jean wants to join her. Kat snaps, then suggests a girly night, ignoring her secret mobile as it buzzes.
At the hospital, Michael brings a book for Scarlett from Anthony and Tyler, and convinces Janine to rest. On the Square, Janine spots Jean watching her and is upset no-one's concerned how she is. Janine gives Rose and Lola a £20 bonus and writes Jean a cheque for £50,000. Michael tears it up, and returns Jean's money with an extra £1,000.
Music Played
Timings (where shown) are from the start of the programme in hours and minutes
Credits
| Role | Contributor |
| --- | --- |
| Ben Mitchell | Joshua Pascoe |
| Jay Mitchell | Jamie Borthwick |
| Masood Ahmed | Nitin Ganatra |
| AJ Ahmed | Phaldut Sharma |
| Zainab Khan | Nina Wadia |
| Denise Fox | Diane Parish |
| Alfie Moon | Shane Richie |
| Kat Moon | Jessie Wallace |
| Jean Slater | Gillian Wright |
| Michael Moon | Steve John Shepherd |
| Janine Butcher | Charlie Brooks |
| Lola Pearce | Danielle Harold |
| Shirley Carter | Linda Henry |
| Writer | Matt Evans |