Main content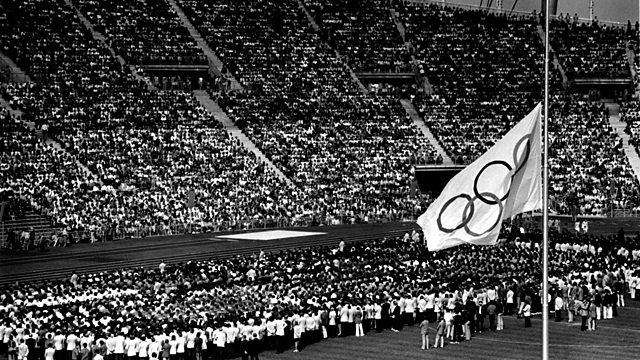 The joy and tragedy of the 1972 Munich Olympics are explored through songs and eye-witness accounts.
The joy and tragedy of the 1972 Munich Olympics are explored through songs and eye-witness accounts in the third of this series of Radio Ballads.
40 years on, relatives of the eleven Israeli athletes killed at the 1972 Games by the Black September group remember their loved ones; while senior Israeli and Palestinian Olympic officials discuss the consequences of the operation. The horror of a deadly terrorist attack at an event promoted as "The Happy Olympics" is amplified by the setting of such personal stories to music.
The days before, during and after Munich are explored through the memories of eye-witnesses and in specially-written songs by Britain's finest songwriters, including Chris Wood, Jez Lowe, Julie Matthews, Steve Tilston and Boo Hewerdine.
The ballad begins with careful German preparations to stage a very different Olympics to the Nazi Games of 1936, through the gold medal delight of Olga Korbut and determination of Mary Peters; to the darkness of the hostage-taking in the Olympic Village and the ensuing death and destruction at Furstenfeldbruck airport.
One song - Did Not Compete by Jez Lowe - was inspired by the struggle of sports results agency boss Ulricht Kaiser to categorise murdered Israeli wrestler Mark Slavin in his summary of the Games. 40 years after Munich, the Palestinian perspective is represented by Palestinian Olympic chairman Djibril Rajoub, whose insight inspires the final song, Masterpiece by Chris Wood, a hard-hitting song summarising thousands of words.
The Ballad closes with Dr Elisabeth Traeder, of the Max Planck Institute, reading out the list of murdered Israeli athletes from the memorial outside the hostage flat at 31 Connollystrasse, which is now used for student accommodation.
Contributors include the Scottish sports writer Doug Gillon, who covered his first Olympics at Munich: historian Dr Chris Young, author of Munich 1972: The Making Of Modern Germany; Walter Troeger, mayor of the Munich Olympic Village; Ankie Spitzer, wife of murdered fencer Andre Spitzer; Tali Slavin, sister of murdered wrestler Mark Slavin; gymnast Olga Korbut; gold medal-winning pentathlete Dame Mary Peters; Israeli sprinter Esther Roth Shahamorov; Efraim Zinger, and the Secretary General of the Israeli Olympic Committee.
Last on
Broadcast