Main content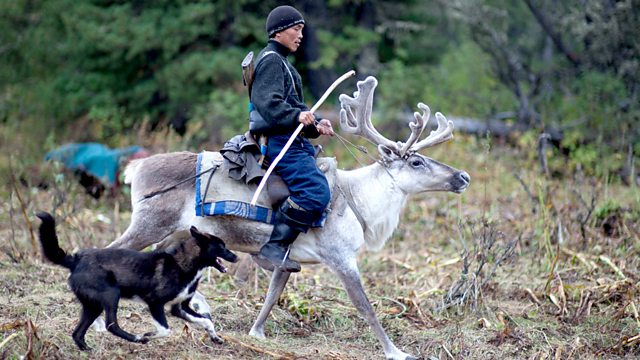 Tuvan reindeer herders on the Russian-Mongolian border are facing new pressures on the land. Cicely Fell travels to a reindeer herding camp and glimpses a disappearing way of life.
Five sketches of life on the move in the wild Siberian borderlands. Cicely Fell follows the upper reaches of the Yenisei river to nomadic and religious communities on the southern edge of Russia.
The Tozhu reindeer people live in the remote taiga forests of eastern Tuva, on Russia's border with Mongolia. For thousands of years, these nomadic hunters have kept small herds of reindeer as pack and riding animals and for milk.
Today, with the construction of the first railway into Tuva and the arrival of Russian and Chinese mining giants in the taiga, the Tozhu's traditional lands are under threat. Fewer than twenty reindeer herding families remain active in Tuva and the number of reindeer has fallen to around 1,000.
Cicely travels to the Kyrganai family's summer encampment in the high mountain taiga, a week's ride from the nearest village. The disappearance of Soviet subsidies and transportation has split the reindeer herding families between their camps in the taiga and the villages. Today they have no income and no access to provisions or medicines. Economic hardships and the depletion of wild game stocks by commercial hunters are driving the Tozhu to sell their reindeer for meat, using nearby mines as trading posts.
Producer: Cicely Fell
An Above the Title production for BBC Radio 4.
More episodes
Next
You are at the last episode