Main content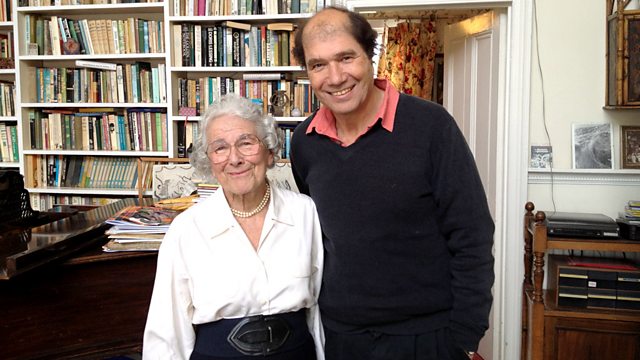 Judith Kerr
Michael Berkeley meets author Judith Kerr. Her musical choices include works by her parents, as well as Mozart, Beethoven, Holst and Prokofiev.
Michael Berkeley's guest on Private Passions this week is the best-selling children's author Judith Kerr. Now 89, Judith was born into a distinguished pre-war German Jewish intellectual family: her father, Alfred Kerr, was a well known journalist and critic, and her mother, Julia, a composer. The family fled from Berlin in 1933 after Hitler's rise to power, and lived in Switzerland and Paris before reaching London in 1936. In the 1950s Judith met and married Nigel Kneale, author of the famous BBC TV science fiction series Quatermass. Their son Matthew Kneale has followed in his parents' footsteps, becoming an acclaimed novelist, while their daughter Tacy is an artist.
Judith is both a writer and an illustrator, best known for her children's books, including the much-loved Mog series (about a cat), 'The Tiger Who Came to Tea' and the novel for young adults 'When Hitler Stole Pink Rabbit', which is based on her own experiences as a child refugee, and won the 1974 Deutscher Jugendliteraturpreis.
Judith's musical choices include a fragment of an opera about Einstein written by her parents; an excerpt from the final scene of Mozart's opera Don Giovanni; the Jewish Memorial Prayer El Malei Rachamim performed at the 2001 International Holocaust Memorial Day in London; Beethoven's Seventh Symphony, which was a favourite of her father, and was played at his funeral; part of 'Mars' from Holst's The Planets, which served as the theme music for Quatermass; The Dance of the Knights from Prokofiev's Romeo and Juliet, which was a favourite of her husband's, and finally her own personal favourite, the Kyrie from Mozart's Mass in C minor, K427.
Last on
Music Played
Julia Kerr

Der Chronoplan

Wolfgang Amadeus Mozart

Don Giovanni (Final Scene)

Moshe Stern

El Malei Rachamim (Jewish Memorial Prayer)

Ludwig van Beethoven

Symphony No.7 in A, Op.92 (2nd movement: Allegretto)

Gustav Holst

Mars (The Bringer of War) From The Planets – Suite, op.32

Sergei Prokofiev

Dance of the Knights (Romeo and Juliet)

Wolfgang Amadeus Mozart

Kyrie (Mass in C minor, K.427)

Julia Kerr

Der Chronoplan

Moshe Stern

El Malei Rachamim (Jewish Memorial Prayer)

Ludwig van Beethoven

Symphony No.7 in A major, Op.92 (2nd mvt: Allegretto)

Gustav Holst

Mars (The Bringer of War) From The Planets – Suite, op.32

Sergei Prokofiev

Dance of the Knights (Romeo and Juliet)

Wolfgang Amadeus Mozart

Kyrie (Mass in C minor, K427)
Broadcasts