Main content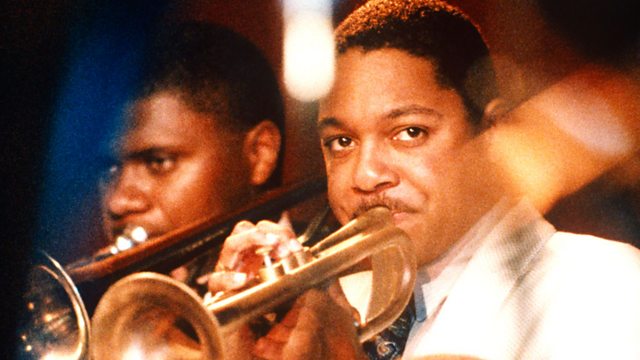 Wynton Marsalis interview; review of Seeking a Friend for the End of the World
John Wilson meets jazz musician Wynton Marsalis; 'Seeking a Friend for the End of the World' with Keira Knightley is reviewed; the story of photographer Philippe Halsman.
With John Wilson.
Jazz musician Wynton Marsalis discusses his approach to the history of jazz, his feelings about hip-hop, and the rhythms of Congo Square, New Orleans, which have inspired a major composition.
Seeking a Friend for the End of the World is a new film from director Lorene Scarfaria, starring Keira Knightley and Steve Carrell. With three weeks to go before the apocalypse, a man decides to take a road trip to reunite with his high school sweetheart. Rachel Cooke reviews.
Philippe Halsman was a celebrity photographer who often used to get his subjects to jump - arguing that, in jumping, they drop their "mask" and reveal their true personality. The little-known story of his life - which included a false charge of murder - has been turned into novel, by Austin Ratner. He and Joanna Pitman, photography critic for The Times discuss Philippe Halsman's life, influence and legacy.
The Joseph Rowntree Foundation's Minimum Income Standards report says that a family with two children needs an income of nearly £37,000 to have a 'socially acceptable' standard of living. But how much of this should be spent on experiencing arts and culture? Abigail Davis who helped write the report explains how the report defines cultural activities and how their perceived importance has withstood the recession.
Producer Erin Riley.
Last on
Chapters
Seeking a Friend for the End of the World

Rachel Cooke reviews Seeking a Friend for the End of the World.

Duration: 04:22

Wynton Marsalis

Interview with Jazz musician Wynton Marsalis.

Duration: 11:41

Minimum Income Standards report

Abigail Davis who helped write The Joseph Rowntree Foundation's Minimum Income Standards report defines cultural activities and how their perceived importance has withstood the recession.

Duration: 03:36

Philippe Halsman

Author Austin Ratner and Joanna Pitman, photography critic for The Times discuss Philippe Halsman's life, influence and legacy.

Duration: 08:11

Broadcast