Main content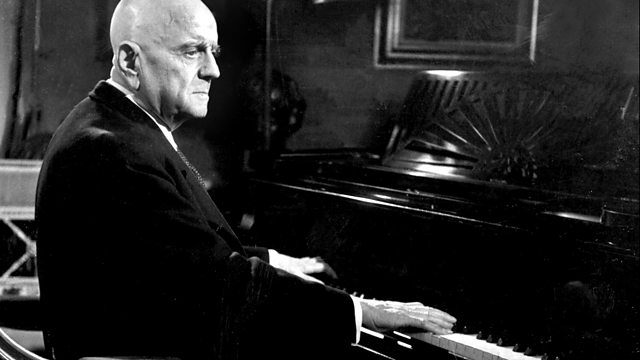 Sibelius: A Symphony That Burned
4 Extra Debut. Peggy Reynolds explores the story of Sibelius's notorious 'lost' Eighth Symphony and its remarkable rediscovery. From July 2012.
The most notorious 'lost work' in classical music: rediscovered? Peggy Reynolds tells the story of Jean Sibelius's infamous Eighth Symphony - with extracts from new musical fragments discovered last year, performed exclusively for the programme.
---
Jean Sibelius thought he'd burned his last symphony forever. For two decades, he had struggled in the forest fastness of his home in the countryside, Ainola, north of Helsinki. Born in 1865, he was Finland's greatest artistic hero: a composer whose music had once articulated an entire nation's dreams of independence. Finlandia, the Karelia Suite, The Second Symphony - all flowed from his pen...and made him an icon.
Now, in the 1930s and 40s, he was an old man of the Romantic era - an artist alive long after his time. Loved by concert audiences but pilloried and mocked by the new winds of musical modernism, now he felt ancient, irrelevant, unable to speak.
For the last 25 years of his long life, he didn't publish a single note of music. How could he? Here was an artist truly adrift between old and new. The year Sibelius was born, 1865, Abraham Lincoln was assassinated. The year he died, 1957, the Russians sent Sputnik into space.
And so, one morning in 1945, Jean Sibelius took the pages of a symphony that had taken him to the brink of despair...and burned it all: destroying it before it destroyed him.
His Eighth Symphony became the most notorious 'lost work' in classical music. Audiences dreamed of hearing just a snatch of what had played inside the old man's head; critics wondered if this 'irrelevance' had been forging secret, daringly original new musical ground.
For decades not a single note could be traced. And then, last year, three short fragments of music were revealed - the culmination of years of painstaking research through piles upon piles of manuscript sketches. The only evidence of any orchestral work by Sibelius during the infamous 'silence of Ainola'. And almost certainly the only tantalising glimpse we may ever get at his fabled Eighth Symphony.
Writer and broadcaster Peggy Reynolds visits Sibelius's home near Helsinki to fully unpick - for the first time - the riddle of Sibelius's Eighth Symphony, with contributions from the great British conductor and Sibelius expert Sir Mark Elder. She presents a performance of newly-discovered musical fragments, performed exclusively for the programme by the Helsinki Philharmonic Orchestra under John Storgards...after eight decades, the closest we may ever get of experiencing the most infamous lost work in 20th century music.