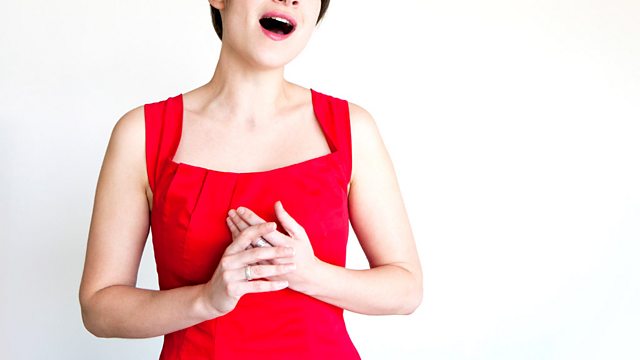 Changing My Voice
Christopher Gabbitas asks why singers sometimes have to change the pitch of their voice. How do they learn to perform in another register and what effect does the change have?
Christopher Gabbitas is a member of the vocal group the King's Singers. He originally began his career as a bass, able to sing the lowest notes with ease. But when he auditioned for the group,the vacancy was for the higher baritone voice and he had to learn to sing in that new range.
Some classical singers have to change their voice because of the effects of ageing. If they've been a high soprano perhaps they now have problems hitting the top notes and may decide to pursue a career in the lower mezzo range. Men, as in the recent case of the celebrated tenor Plácido Domingo, may decide to move from being a tenor to singing baritone.
Other singers discover that, although they may have begun in one register, they are more suited to another. The opera singer Grace Bumbry began her career as a low soprano but discovered that she was able to sing higher and changed - to huge critical acclaim.
And there are cases of injury to the vocal chords, which can also cause a singer to have to change register.
But it's not easy to change your voice. Although it can prolong a singer's performing life, changing pitch can be an unnerving process. There are new techniques to learn. The ear has literally to be retuned and the brain rewired to adapt to a new vocal range. And the way performers often think of themselves in stereotypes- a romantic tenor for example, or a coloratura soprano- has to be revised.
In this feature, Christopher goes on a personal exploration of the art of voice changing. He examines his own experiences and talks to other singers who have switched ranges, to see how fundamental such shifts can be. Interviewees include the singers Grace Bumbry and Rosalind Plowright.
Producer: Emma Kingsley.