Main content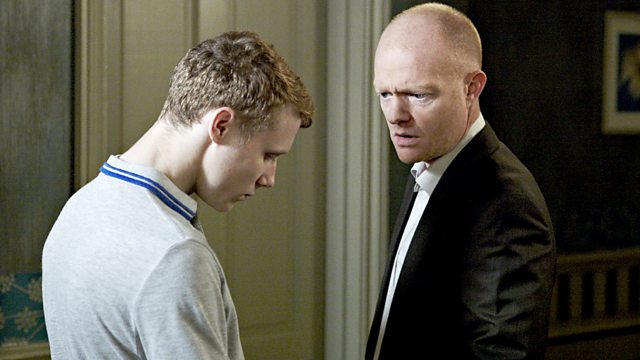 29/06/2012
Kat is stunned when Jean announces that Michael is not solely to blame for recent events. Alice begs Joey to give Derek a chance, while Lola's world comes crashing down around her.
Billy receives his Olympic tracksuit. Jay wants Lola to confess to the car vandalism. Max threatens to call the police if Lucy doesn't pay. Phil refuses to help her. Jay takes the blame, Max guesses he's covering for Lola. Jay pleads Lola could lose everything if the police are involved. Meanwhile, Billy's late to Lola's pre-birth conference with social services. Jay informs Lucy that Max is dropping it, Lucy realises Lola's the guilty party. At home, Billy and Lola are met by police; Lola's been reported for vandalism. Lucy watches.
Joey agrees to one drink with Derek for Alice's sake. Joey comforts a distraught Lucy, and learns the full extent of Derek's harassment. Joey tells Derek he's in debt, then passes the cash Derek gives him onto Lucy. As Derek watches, Joey kisses Lucy on the cheek. Joey gloats as Derek fumes.
In hospital, Janine's irritated when Michael brings the wrong dress for Scarlett's christening. Kat's bemused when Jean publically defends Michael. Jean thinks they both know what it is to be scared.
Michael vows to pay Jean back. Kat advises he and Janine support each other. In hospital, Janine falters when Tiffany gives her a doll's dress for Scarlett and cries that she feels helpless. Ricky soothes that Scarlett's a fighter – like Pat. Janine changes the baby's name to Patricia. Reverend Stevens baptises Patricia with Ricky and Whitney as Godparents.
Janine wants Ricky and Diane to leave after the christening. Morgan's distressed he won't see Ray for ages. Ricky's grateful when Ray tells Morgan they all need to support Janine.
Denise tells Zainab the Minute Mart's having an anonymous spot check and could receive a prize. Zainab forces herself to be pleasant all day but snaps just as the Regional Manager arrives. Furious, Zainab realises she's been tricked.
Music Played
Timings (where shown) are from the start of the programme in hours and minutes
Credits
| Role | Contributor |
| --- | --- |
| Lola Pearce | Danielle Harold |
| Billy Mitchell | Perry Fenwick |
| Lucy Beale | Hetti Bywater |
| Joey Branning | David Witts |
| Derek Branning | Jamie Foreman |
| Alice Branning | Jasmyn Banks |
| Janine Butcher | Charlie Brooks |
| Michael Moon | Steve John Shepherd |
| Ricky Butcher | Sid Owen |
| Whitney Dean | Shona McGarty |
| Jay Mitchell | Jamie Borthwick |
| Max Branning | Jake Wood |
| Phil Mitchell | Steve McFadden |
| Denise Fox | Diane Parish |
| Zainab Khan | Nina Wadia |
| Patrick Trueman | Rudolph Walker |
| Alfie Moon | Shane Richie |
| Kat Moon | Jessie Wallace |
| Jean Slater | Gillian Wright |
| Mo Harris | Laila Morse |
| Ray Dixon | Chucky Venn |
| Tiffany Butcher | Maisie Smith |
| Morgan Butcher | Devon Higgs |
| Reverend Stevens | Michael Keating |
| Annabel | Lisa Greenwood |
| Helen Roberts | Martine Brown |
| Director | John Greening |
| Writer | Wendy Granditer |