Main content
Best of Radio goNORTH
Vic Galloway brings you the best of Radio goNORTH. For the first time, 12 radio enthusiasts were given the chance to run a radio station to cover the Go North Festival.
BBC Radio Scotland is handing over the reigns of the new music zone to another radio station as Vic Galloway brings you the best of Radio goNORTH.
goNORTH is an introduction, showcase and celebration of music, film, design and fashion focusing on talent from the Highland and Islands. Over the last few years the festival has brought together representatives of the creative industries from all over the world.
At the start of June industry delegates descend on Inverness to discuss the future and hopefully catch the next big thing.
As part of the festival this year a group of radio enthusiasts were trained up and told to put on their own radio station to cover everything that was happening in the Highland capital that week.
The Radio goNORTH team pitched their tent in the garden of the BBC in Inverness and promptly invited every musician performing over the next three days to pop in from a chat and a strum. Along with presenting their own shows they even managed to persuade the odd BBC Radio Scotland presenter to do a bit of moonlight presenting.
Live music from the likes of The Whisky River Band, The Stagger Rats and Washington Irving.
For more information about the Radio goNORTH project, visit www.radiogonorth.com.
Last on
The goNorth team in Inverness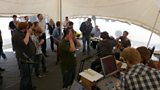 Broadcast