Main content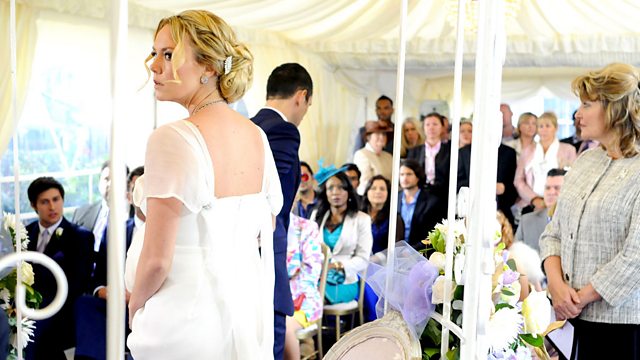 22/06/2012
Wedding bells are ringing for Michael and the heavily pregnant Janine as their big day dawns, but will everything run smoothly for the wickedest couple in Walford?
Fifteen minutes before the wedding, Michael stashes the pre-nup in his pocket and visits Janine. Janine's in her wedding dress, but peers round the door and assures him she has no doubts. Jean stares out the window at Michael, astonished no-one else can see what he is. Gently, Kat tells Jean they think she's ill and may need to go to hospital. Jean threatens to kill herself if she's sectioned. Insisting Alfie stay with Jean, Kat finds Michael. She tells Michael about Jean's threat but Michael continues to protest his innocence until Kat's convinced. Tearful, Kat goes but, not wanting a woman's blood on his hands, Michael shouts after her 'I did it'. Michael claims he always intended to pay the money back. He tells Kat he's fond of Janine, but all he really needs is money. He scoffs when Kat claims the baby will change everything. The guests stare when Janine arrives at the marquee before Michael. Alfie and Jack locate Michael. Kat brands Alfie pathetic when he insists they'll talk later. Outside the marquee, Jean tells Janine her baby will never be loved and Kat says Janine might just deserve Michael. Janine looks troubled but goes ahead with the wedding. During Ricky's reading, Michael leads Janine outside and confesses what he did to Jean. Janine admits she's done worse. Janine stops Michael walking away. Janine eventually rips up the pre-nup to prove she loves and trusts Michael - he's insisted he won't marry her if she doesn't. Happy, they return to the marquee and are married. The locals enjoy the free reception food. Alfie looks on in disgust as Michael and Janine sign the register. When Michael thanks him for being best man, Alfie's cold - after the wedding he's going to finish Michael. As Michael and Janine dance, Janine suddenly freezes in shock, then collapses in pain. Michael's shocked to see a large patch of blood on Janine's wedding dress. As Janine's carried into an ambulance, Michael hisses at Jean, she did this. Alfie insists on going to the hospital. Jean finds Janine's blood stained wedding shoe. She opens her hand to reveal Michael's St Christopher – she didn't flush it. At the hospital, Janine has an immediate caesarean due to a placental abruption. Michael looks on in horror as the tiny premature baby is delivered and then resuscitated. Desperate, Janine asks why she can't see her. Looking down at his daughter Michael asks himself 'what have I done?'
Alice's upset; her mum knows she's been seeing Derek. Dragging Lucy out of the chip shop, Derek forces her to apologise to Alice. Derek's son, Joey, appears. He instructs Derek to let Lucy go then hits him. Derek gives Alice a necklace, but Joey knocks it to the ground. Derek begs Joey to give him a chance, Joey's hostile insisting Derek won't be seeing Alice again. Lucy fancies Joey.
Abi eventually tells Jay she's going to Costa Rica. Picking up some car keys Max has dropped, Jay texts Abi asking her to meet him. He proposes borrowing a car and leaving. Abi's adamant she wants to go on the trip assuring Jay she'll be back in two months. Jay insists if she goes the engagement's off. Jay watches, heartbroken, as Abi gets into Tanya's car. Before they drive away, Abi takes off her engagement ring.
Disgusted, Tanya tells Derek she knows what he's done to Lucy. Derek asks her if she knows what Max got up to when he was away. Max feigns innocence but eventually tells Tanya he did some dodgy stuff, has some debts. During the reception, Max proposes.
Clips

Music Played
Timings (where shown) are from the start of the programme in hours and minutes
Credits
| Role | Contributor |
| --- | --- |
| Michael Moon | Steve John Shepherd |
| Janine Butcher | Charlie Brooks |
| Ricky Butcher | Sid Owen |
| Tiffany Butcher | Maisie Smith |
| Morgan Butcher | Devon Higgs |
| Whitney Dean | Shona McGarty |
| Alfie Moon | Shane Richie |
| Jean Slater | Gillian Wright |
| Kat Moon | Jessie Wallace |
| Mo Harris | Laila Morse |
| Tyler Moon | Tony Discipline |
| Alice Branning | Jasmyn Banks |
| Derek Branning | Jamie Foreman |
| Joey Branning | David Witts |
| Jack Branning | Scott Maslen |
| Max Branning | Jake Wood |
| Tanya Jessop | Jo Joyner |
| Lauren Branning | Jacqueline Jossa |
| Abi Branning | Lorna Fitzgerald |
| Cora Cross | Ann Mitchell |
| Jay Mitchell | Jamie Borthwick |
| Phil Mitchell | Steve McFadden |
| Billy Mitchell | Perry Fenwick |
| Lola Pearce | Danielle Harold |
| Shirley Carter | Linda Henry |
| Andrew Cotton | Ricky Grover |
| Director | Karl Neilson |
| Writer | Simon Ashdown |
| Kim Fox | Tameka Empson |
| Ray Dixon | Chucky Venn |
| Patrick Trueman | Rudolph Walker |
| Denise Fox | Diane Parish |
| Zainab Khan | Nina Wadia |
| Masood Ahmed | Nitin Ganatra |
| Tamwar Masood | Himesh Patel |
| Arthur 'Fat Boy' Chubb | Ricky Norwood |
| Lucy Beale | Hetti Bywater |
| Poppy Meadow | Rachel Bright |