Main content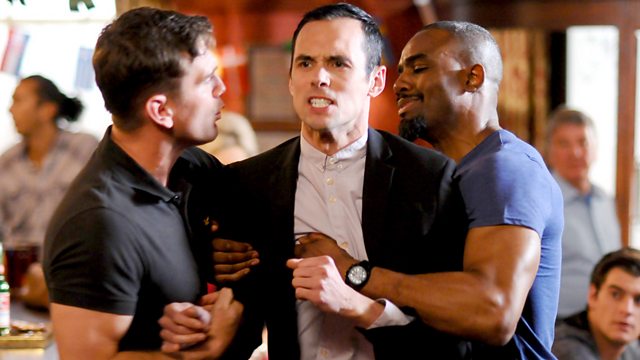 19/06/2012
Abi remains determined to keep her engagement to Jay a secret, but when her ring becomes firmly stuck on her finger, all hell breaks loose. Janine's wedding plans suffer a setback.
Whitney's shaken by a phone call - Liam's broken his arm. Janine panics that the family won't make the wedding and gives Whitney cash to sort it. When Janine's wracked with pain, the doctor diagnoses a urinary tract infection and suggests postponing the wedding.
Janine's touched when Michael comes home with her parents' favourite song but tells him the wedding's off. Apoplectic, Michael hunts Jean down in the Vic, blaming her for stressing Janine. Ray turfs Michael out. Janine leads Michael away as he insists they have to get married to prove everyone wrong.
Abi hides her engagement ring on a chain as the family excitedly toast her trip. Abi panics when her ring gets stuck, and hides her hand until Jay exposes the ring, announcing they're engaged and Abi's not going to Costa Rica.
Mo's annoyed Alfie wants Tommy to have a nursery, meaning she and Jean will have to share. Jean's upset Tommy has to have second hand toys. Mo and Kat intercept a delivery of customised wedding mugs for Janine. Alfie discovers Michael's wedding rings missing, then realises Jean's taken them.
Kat thinks it's too soon for Tommy to sleep alone. Alfie lies he refused to be Michael's best man. Kat tells Alfie she knows Roxy gave them the loan - Roxy's told her everything.
Derek warns Lucy he's fining her. Lucy seeks out Phil, but he's away. Lucy admits to Lauren she lied about Ian and has been coping alone, but backs off when Derek approaches. Derek empties the chip shop till, warning Lucy not to involve his family again. Lauren emerges from hiding, shocked.
Poppy's unhappy at the Moons'. Tanya's surprised at Poppy's eagerness to stay for the wedding; Poppy admits she has no work. Tanya offers her part time hours and Cora invites Poppy to stay.
Music Played
Timings (where shown) are from the start of the programme in hours and minutes
Credits
| Role | Contributor |
| --- | --- |
| Jean Slater | Gillian Wright |
| Michael Moon | Steve John Shepherd |
| Janine Butcher | Charlie Brooks |
| Kat Moon | Jessie Wallace |
| Alfie Moon | Shane Richie |
| Ray Dixon | Chucky Venn |
| Abi Branning | Lorna Fitzgerald |
| Jay Mitchell | Jamie Borthwick |
| Tanya Jessop | Jo Joyner |
| Max Branning | Jake Wood |
| Lauren Branning | Jacqueline Jossa |
| Lucy Beale | Hetti Bywater |
| Derek Branning | Jamie Foreman |
| Jack Branning | Scott Maslen |
| Cora Cross | Ann Mitchell |
| Mo Harris | Laila Morse |
| Whitney Dean | Shona McGarty |
| Arthur 'Fat Boy' Chubb | Ricky Norwood |
| Poppy Meadow | Rachel Bright |
| Tyler Moon | Tony Discipline |
| Ben Mitchell | Joshua Pascoe |
| Lola Pearce | Danielle Harold |
| Director | Michael Owen Morris |
| Writer | Perrie Balthazar |
| Dr Antonia Moyles | Pandora Clifford |