Main content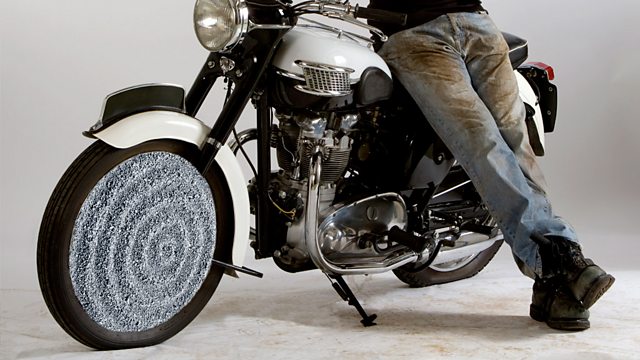 Robert M Pirsig - Zen and the Art of Motorcycle Maintenance
4 Extra Debut. A father and son's motorcycle trip across 1960s America - a meditation on values, and evaluating the past. Stars James Purefoy.
Zen and the Art of Motorcycle Maintenance is the story of a motorcycle journey across America, a meditation on values and the concept of Quality, and an allegorical tale of a man coming to terms with his past and with his young son.
The narrator takes a cross-country motorcycle trip from Minnesota to California with his son Chris during which the maintenance of the motorcycle becomes an illustration of how to unify the cold, rational realm of technology (the 'classical') with the warm, imaginative realm of artistry (the 'romantic'). As with the practice of Zen, the trick is to engage fully with the activity, to see and appreciate every detail, whether it's hiking in the woods, writing an essay, or tightening the bike chain to ensure a smooth ride.
The narrator wrestles both with the ghost of his past and with some of the most important philosophical questions of the 20th century.
The book touched the zeitgeist of a whole generation in 1974 after being turned down by 121 publishers. It's the biggest selling philosophy book ever with more than 5 million copies sold worldwide, has a huge online following - and has never been dramatized. Writer Peter Flannery (Our Friends in the North, George Gently, The Devil's Whore) adapts his favourite book for radio, with James Purefoy (Rome, Injustice, Ironclad) playing the Dad/Narrator.
Author: Robert M. Pirsig
Dramatist: Peter Flannery
Original music: Jon Nicholls
Sound Design: Eloise Whitmore
Producer: Melanie Harris
A Sparklab production for BBC Radio 4.
Last on
Credits
| Role | Contributor |
| --- | --- |
| Dad | James Purefoy |
| Narrator | James Purefoy |
| Phaedrus | James Purefoy |
| Chris | Max Cazier |
| John | Sean Power |
| Sylvia | Lucy Newman-Williams |
| Gennie | Caitlin Thorburn |
| Professor | Paris Arrowsmith |
| Students | ArtsEd, School of Acting |
| Adaptor | Peter Flannery |
| Author | Robert M Pirsig |
| Producer | Melanie Harris |
Broadcasts