Main content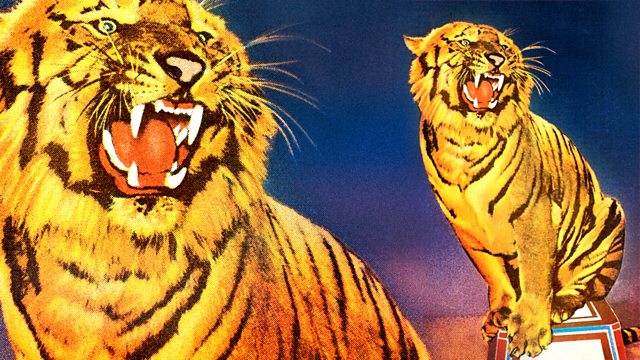 Lizzie's Tiger
Angela Carter's story imagining an encounter in which a circus tiger shapes the destiny of the notorious Lizzie Borden, reimagined as a four-year-old.
'The tiger walked up and down, up and down; it walked up and down like Satan walking about the world and it burned. It burned so brightly, she was scorched.'
It is 1864, and the Borden family are living in a poor way in River Fall, Massachusetts, when, one day, the circus comes to town. Defying her grave undertaker father, the squat, square infant, Lizzie Borden, who will one day take an axe to her parents, slips out illicitly to the circus. Dazzled by the bawdy sights and sounds around her, the four-year-old girl finds herself in the animal enclosure. A magnificent tiger is pacing up and down his tiny cage, when, for one extraordinary moment, their eyes meet, and Lizzie's destiny is sealed...
Angela Carter died 20 years ago, and is remembered as one of the great literary figures of the 20th century. 'Lizzie's Tiger', one of the last pieces she wrote, was originally commissioned for BBC Radio 3, and published posthumously in a collection, American Ghosts and Old World Wonders. It is one of her many short stories in which she reimagines the lives of certain historical figures; in this case the young life of the notorious Lizzie Borden, who would one day be tried for murdering parents.
Reader: Debora Weston
Abridged and produced by: Justine Willett.