Main content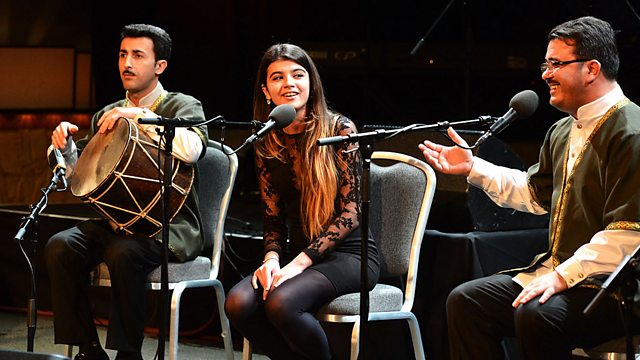 Part 5
As part of the World Routes Academy Lucy Duran travels to an accordion festival held in the north east of Colombia, and listens to indigenous music in the Sierra Nevada mountains.
As part of the World Routes Academy, Lucy Duran travels to the Valledupar accordion festival and competition held in the north east of Colombia. Whilst there, she follows the progress of Academy protege Jose Hernando Arias Noguera who takes part in the amateur category of the event, and travels to the remote and dangerous Sierra Nevada mountain range to hear the music of the Kankuamos people. Plus she meets the President of Colombia who explains what business a head of state has opening a folk festival. Producer James Parkin. 1/2
Launched in 2010, the BBC Radio 3 World Routes Academy aims to support and inspire young UK-based world music artists by bringing them together with an internationally renowned artist in the same field belonging to the same tradition. This year the scheme explores the Colombian accordion folk tradition called vallenato through the eyes of self-taught, UK based accordionist José Hernando Arias Noguera.
Growing up in a Colombian household, José fell in love with vallenato, the popular folk style from the Caribbean coast of Colombia which he learned through watching internet clips and video cassettes his father brought back from Colombia. José plays in a number of Latin music bands in London and dreams of becoming an ambassador for Vallenato music in Europe. These 2 editions of the World Routes Academy see a dream come true for Jose Hernando who gets to take part in the famed "Legend of Vallenato" accordion festival which takes place once a year in the city of Valledupar. The programmes document Jose Hernando's progress as he competes in the amateur category of the competition. Making history, he becomes the first British-born Colombian to take part in the festival and becomes the first competitor to sing in English and Spanish.