Main content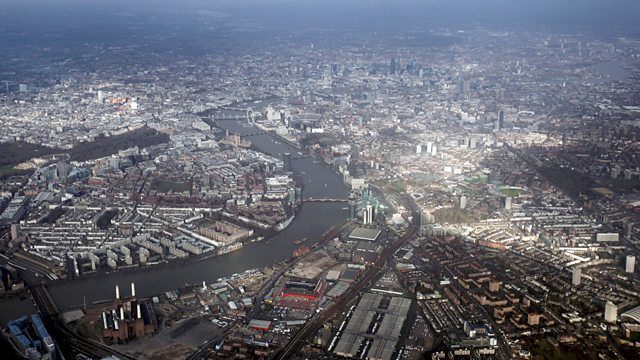 London
Texts and music celebrating London, with readings by Eileen Atkins and David Jason. Includes Defoe, Dickens, Orwell, Eliot and Keats, plus Handel, Haydn, Walton, Britten and Elgar.
Words and Music: London
Words and Music celebrates the great capital city with music and texts read by two distinguished London-born actors, Dame Eileen Atkins and Sir David Jason.
In many ways a city of contradictions, Words and Music celebrates the Thames, the church bells, the parks and the architecture, along with the less salubrious side of the city - the overcrowding, the noise and the stench which Londoners have complained about for centuries. We view London through the eyes of its chroniclers such as Daniel Defoe and John Evelyn, along with eminent visitors to the city such as Handel and Haydn. There are also references to key events in London's history - the Fire, the Plague, the Blitz, and the terror of Jack the Ripper. Above all, there is a sense of the love of the city from the writings of authors and poets who lived there, including Charles Dickens, George Orwell, T.S. Eliot and John Keats.
London has inspired many composers, and the readings are accompanied by music by Vaughan Williams, Walton, Britten, Haydn and Elgar.
Producer: Ellie Mant.
Music Played
Timings (where shown) are from the start of the programme in hours and minutes
William Wordsworth

William Wordsworth - Lines written near Richmond, upon the Thames, read by Eileen Atkins

Charles Dickens

Charles Dickens - Bleak House, read by David Jason

Edith Matilda Thomas

Edith Matilda Thomas - Breath of Hampstead Heath, read by Eileen Atkins

John Keats

John Keats - Lines on the Mermaid Tavern, read by David Jason

E.M. Forster

: E.M. Forster - Howard's End, read by Eileen Atkins

William Blake

William Blake - London, read by David Jason

Daniel Defoe

Daniel Defoe - A Journal of the Plague Year, read by Eileen Atkins

Tobias Smollett

Tobias Smollett - The Expedition of Humphry Clinker, read by David Jason

Arnold Bennett

Arnold Bennett - Journals, read by Eileen Atkins

Joseph Haydn

Joseph Haydn - Letter to Maria Anna von Grenzinger, 8 Jan 1791, read by David Jason

T. S. Eliot

T. S. Eliot - The Waste Land, read by Eileen Atkins

V.S. Pritchett

V.S. Pritchett - A Cab at the Door, read by David Jason

George Orwell

George Orwell - 1984, read by Eileen Atkins

Tom Cullen

Tom Cullen - Autumn of Terror, read by David Jason

Iris Murdoch

Iris Murdoch - A Word Child, read by Eileen Atkins

John Evelyn

John Evelyn - Diary, read by David Jason

Robert Leighton

Robert Leighton - Poets' Corner, read by Eileen Atkins

Anthony Powell

Anthony Powell - The Military Philosophers, read by David Jason

Producer Note

This evening Words and Music celebrates our great capital city with music and texts read by two distinguished London-born actors, Dame Eileen Atkins and Sir David Jason.

In many ways a city of contradictions, the programme celebrates the Thames, the church bells, the parks and the architecture, along with the less salubrious side of the city – the overcrowding, the noise and the stench which Londoners have complained about for centuries. We view London through the eyes of its chroniclers such as Daniel Defoe and John Evelyn, along with eminent visitors to the City such as Handel and Haydn. There are also references to key events in London's history – the Fire, the Plague, the Blitz, and the terror of Jack the Ripper.  Above all, there is a sense of the love of the city from the writings of authors and poets who lived there, including Charles Dickens, George Orwell, T.S. Eliot and John Keats.

London has inspired many composers, and the readings are accompanied by music by Vaughan Williams, Walton, Britten, Haydn and Elgar.

The programme begins with the Thames, the life-blood of the city, described in a poem by Wordsworth, and set to music by Walton. No programme on London would be complete without the writings of Charles Dickens, who did so much to expose the real London, complete with its mud and 'black drizzle'. This is followed by Vaughan Williams's equally vivid musical description in his London Symphony. The city's parks and pubs are captured in poetry, along with the architecture of the Queen's Hall, gazed at by E.M. Forster's characters during a concert. William Blake's famous poem about London is followed by Britten's setting of the text, and Daniel Defoe's description of London during the plague is accompanied with music by Purcell. Handel and Haydn were both embraced by Londoners during their visits to the City, with Haydn writing several 'London Symphonies'. T.S Eliot describes the crowds flowing over London Bridge in The Waste Land, while V.S Pritchett was more interested in the Cockney world of the East End, alluded to by Elgar in his Cockaigne Overture. For George Orwell's Winston, the sounds of the famous city church bells are a distant memory, and the bells were also inspiration for Steve Martland, in his unusual setting of the Oranges and Lemons song. Victorian London was terrorised by the threat of Jack the Ripper, immortalised in film with a dramatic soundtrack by Stanley Black. Iris Murdoch writes a vivid description of the characters riding the Circle Line on the underground, while John Evelyn, one of the great London diarists gives his account of the devastation of St Paul's Cathedral after the Fire of London.  London's poets are celebrated in death by Robert Leighton's humorous poem Poets' Corner, and the programme ends back where it began with the Thames, this time from the view-point of the characters in Anthony Powell's The Military Philosophers, powerless to stop the destruction during the Blitz. They refer to Spencer's poem Sweet Thames run softly, a text which was used so effectively by George Dyson in his beautiful setting of the same title.  

The hidden history of plant-based diets