Main content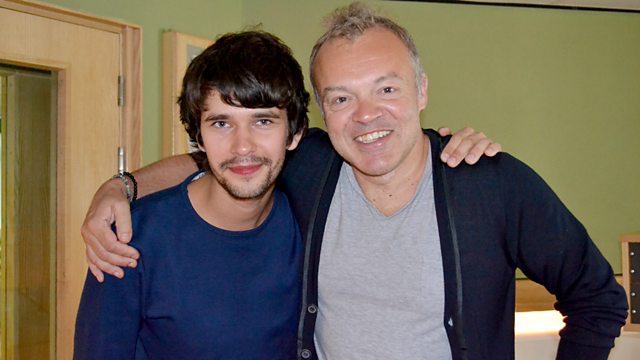 with Ben Whishaw and Simon Mayo
This week Ben Whishaw - star of The Hour and Q in the new Bond movie - and author, quiz-show host and Radio 2's drivetime presenter Simon Mayo will be Graham's guests.
This week's 'I Can't Believe It's Not Better' song was chosen by Richard Trent in Surrey. 'Whispering Grass' by Windsor Davies and Don Estelle unbelievably was a number one in 1975 and once again the nation was divided. Tomas Edwards in Jersey picked Andrew Gold's 'Lonely Boy' as his 'Tune With A Tale' and will now be eagerly awaiting arrival of his set of wipe free coasters.
First up in 'Grill Graham' was vegetarian Caitlin whose family are all meat eaters. They keep trying to talk her out of being a veggie because they think it's expensive and a bit of a hassle to cook two veggie meals each day. Then there was Carole who has met a really nice man online and everything is great in their relationship apart from the fact that he is overweight and snores. Britain wasn't that impressed with these problems!
Graham's first guest of the day was star of TV's 'The Hour' and the film 'Brideshead Revisited', actor Ben Whishaw, who talked about playing Richard II in part of the BBC's 'Shakespeare Unlocked' season. He also talked about playing Q in the upcoming James Bond film 'Skyfall' with Daniel Craig, how he's looking forward to starring on stage opposite Dame Judi Dench next year and what it was like to act alongside a showbiz monkey!
After 12, our very own Simon Mayo dropped by to chat about being the latest host of 'Blockbusters'. He told us recorded the whole series in nine days by filming five shows a day. He also talked about compiling the very best confessions from his Radio 2 Drivetime show into a book, how he enjoyed writing his novel 'Itch' which he road-tested on his 12 year old son, and how he's looking forward to taking his show on the road during the Olympics where he'll be broadcasting from various venues during the Games.
Music Played
'I Can't Believe It's Not Better' chosen by Richard in Surrey

Ben Whishaw's song choice

The 'Tune With A Tale' choice of Tomas Edwards in Jersey

The choice of Simon Mayo