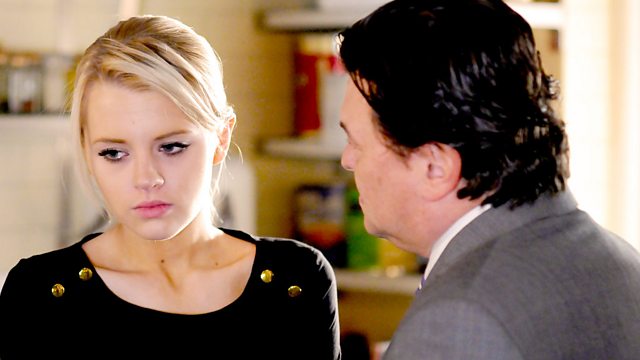 12/06/2012
Derek plans to spend the day with hung-over Alice, and warns Lucy he knows she got Alice drunk. Lucy lies Ian's in Devon and will be back soon. Derek's alarmed to see Joseph Hardcastle, his probation officer, and steers him away from Alice. Derek insists he's reformed and working at the car lot. Lucy tells Joseph Derek's dealing in dodgy booze, and Max accidentally blows Derek's cover. Derek offloads booze to Kat, and gives the rest to Anthony to dump. The police conduct another unfruitful raid. Alice flees, upset – Derek will never change. When the café's deserted, Derek helps himself to the till – he knows Lucy grassed, and threatens she'll soon understand what she's cost him.
Tanya's dismayed to find cars being towed from the car lot - the supplier's gone bust. Tanya and Max bicker hotly and end up kissing passionately. Post coital, Tanya tells Max she wants everything back the way it was and proposes. She's hurt by Max's initial silence. Max insists he was waiting for the right time.
Abi gets an acceptance letter for an Eco-Scholarship in Costa Rica. In McKlunky's, she's distracted as Lola chats about Abi's 16thbirthday. Abi hides her letter down the sofa, which Tanya discovers. Abi tells Jay she wants to spend her birthday with him.
Alfie lies Eddie's loaned them money to cover the VAT. Kat and Jean search Butcher's Joints for proof of Michael's guilt, but they're interrupted. Kat appeals to Janine, then phones the police. Janine reports Kat and Jean. Kat throws a drink over Janine, who reciprocates. Michael tells Janine Eddie's skint. Janine informs Kat that Alfie's lying.
Poppy returns to help with Janine's wedding prep. She boasts she's got a plush flat and business, but returns to a dingy flat and an eviction notice.
Last on
Credits
| Role | Contributor |
| --- | --- |
| Lucy Beale | Hetti Bywater |
| Derek Branning | Jamie Foreman |
| Kat Moon | Jessie Wallace |
| Alfie Moon | Shane Richie |
| Michael Moon | Steve John Shepherd |
| Janine Butcher | Charlie Brooks |
| Jean Slater | Gillian Wright |
| Alice Branning | Jasmyn Banks |
| Max Branning | Jake Wood |
| Tanya Jessop | Jo Joyner |
| Poppy Meadow | Rachel Bright |
| Abi Branning | Lorna Fitzgerald |
| Jay Mitchell | Jamie Borthwick |
| Roxy Mitchell | Rita Simons |
| Lola Pearce | Danielle Harold |
| Ben Mitchell | Joshua Pascoe |
| Director | Michael Owen Morris |