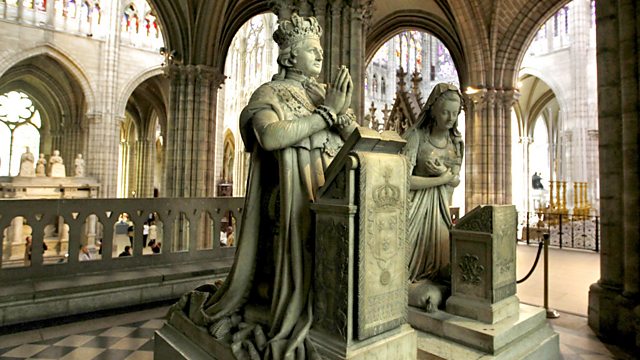 Orchestre Philharmonique de Radio France
Live from the Cathedral Basilica of Saint-Denis, Paris
Martin Handley presents a concert from the Saint Denis Festival in which Schoenberg's erotically charged early masterpiece, Verklarte Nacht is paired with Schubert's otherworldly late Mass. Written in the last months of his short life, Schubert's E flat Mass is as innovatory and daring as his more famous late symphonic and chamber utterances. Essentially symphonic in nature, it is by turns visionary and otherworldly with daring harmonic experiments and awe inspiring orchestral colourings.
The Basilica of Saint Denis, the final resting place of French kings from the seventh century to 1789, and the spiritual birthplace of Gothic architecture is the atmospheric setting for an all too rare performance of Schubert's masterpiece. And, as the light begins to fade, the stained glass windows in this magnificent "royal necropolis of France" will surely add an eerie glow to Schoenberg's Verklarte Nacht, a work inspired by a poem of Richard Dehmel which describes a man and a woman walking through a dark forest on a moonlit night: the woman shares a dark secret with her new lover: she bears the child of another man.
Schoenberg Verklarte Nacht
Orchestre Philharmonique de Radio France
Daniel Harding (conductor)
Schubert Mass no.6 in E flat D. 950
Genia Kühmeier (soprano), Christine Rice (mezzo-soprano), Andrew Staples (tenor) Joshua Ellicott (tenor), Luca Pisaroni (bass-baritone),
Choir of Radio France
Orchestre Philharmonique de Radio France
Daniel Harding (conductor)
At approx 8.55pm
Martin Handley introduces recordings of the famous 1841 Cavaille-Coll organ at the Basilica of Saint-Denis, an instrument which formed the blueprint for a whole school of organ building and compostion in France. And there will also be the chance to hear some of the instruments restored and on display at the impressive instrument museum of the Cite de la Musique a couple of kilometers from Saint-Denis on the northern outskirts of Paris.
A rare Erard pedal piano of 1853 is heard in the Evocation a la Chapelle Sixtine by Franz Liszt, an early advocate for these pedal pianos. And Christophe Rousset plays a harpsichord built in 1652 by Ioannes Couchet, heir to the legendary Ruckers dynasty of Antwerp and expanded and redecorated in Paris at the beginning of the seventeenth century. This ornate instrument, like the Basilica de Saint-Denis, is officially classified as a National Treasure by the French State. Both recordings were made as part of the Cite de la Musique's on-going project to document the instruments on display at the museum.
Last on