Main content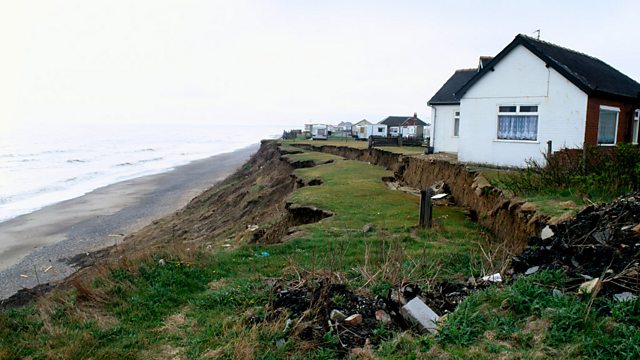 The Houses that Fall into the Sea
The Houses that Fall into the Sea: Nature, landslips and disputed coastal defences are affecting parts of Britain's coastline. We hear from people whose homes are threatened.
Lyz Turner's house, in the East Yorkshire town of Withernsea, is falling into the sea. "My house has started talking to me," she says. "It produces haunting sounds like far-off women wailing."
This programme, combining interviews with music and the sounds of the sea, the wind, the land, the dying houses, explores how people cope with natural calamity: with anger, stoicism, distress, and art.
One winter, Ron and Judith Backhouse watched as first their fence, then their shed, and finally three trees slipped over the cliff at the bottom of their garden on a private estate above Scarborough. "The crack is running up towards our next door neighbour's house," says Ron. "It's maybe five or ten metres away from his bungalow now and we're connected to him. So if he goes, we go, too."?
Artist Kane Cunningham bought a condemned bungalow on the same estate so that he could live in it, use it as an artistic installation and document its demise. Since he moved in, the neighbouring three houses have been demolished for safety reasons, and he reckons his is next.
"You can't fight Nature," he says, "so you may as well celebrate its destructive force. Houses aren't immortal, and neither are we, despite what we may want to believe."
"As I listen to the soft wailing through the wall," says Lyz Turner, whose family have lived here for three generations, "I feel the house knows what's coming. Since Domesday there's been a dwelling where I live, and it seems all the voices of the past, whoever lived here, all the people from the lost villages under the sea, are crying for us now.".