Main content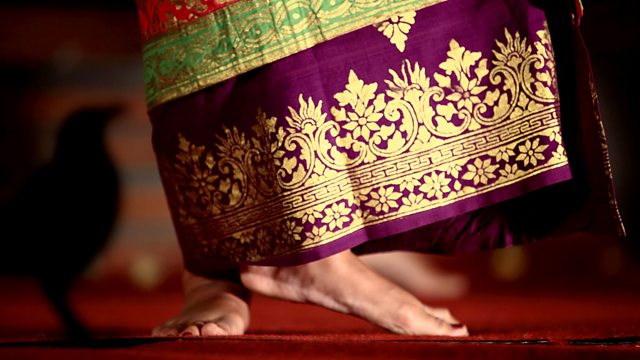 In Search of the Balinese Scarecrow
A treat for the ears fresh from Bali, where the gamelan music played in every village and temple is said to be finest when composed by farmers inspired by the sounds of nature.
Fire flies glimmer over the paddy fields. Water trickles through volcanic irrigation canals. On the edge of a palm tree fringed field, Balinese farmer, and composer Bapak I Dewa Arnawa stands silent under the shooting stars, listening to the frogs calling back and forth, back and forth.
This is where he draws his inspiration.
"Just like gamelan", he says. And it was.
On the Indonesian island of Bali, music is not just entertainment; it is fully integrated into everyday life. Behind the elaborate walls of family compounds and villages, away from tourist eyes, gamelan orchestras practise daily, slit gongs, called kulkul, call the children to school, and music is offered to the Gods in every ceremony of life. Often a bewilderingly chaotic style of music for the Western ear, gamelan in context can make so much more sense.
Even the scarecrows make music here; from bamboo chimes and whirring clackers, to rusty tin cans and elaborate the plastic bag mobiles, shaken by the farmers and the wind; all to rid the valuable rice fields of the birds.
In the search for the music of scarecrows we encounter not only the natural and concrete sounds found in gamelan; the toads, birds, geckos, frogs and ducks, but also the new generation of composers and choreographers who are inspired by these sounds to create new music and dances. Farmers are still reputed to make the best composers.
Using the scarecrows, wildlife and the gamelan of Bali, "In Search of the Balinese Scarecrow" explores where the music stops and the sounds of nature begin.
Music included in the programme included compositions by Bapak I Made Arnawa, Pak Dewa Allit, and I Dewa Putu Berata, a musician, composer , and the founder of Ãudamani , one of Bali's most innovative new gamelan ensembles.
Emiko Saraswati Susilo is a dancer, singer, and musician who has been active in Balinese and Javanese arts for 25 years. She is artistic director of Gamelan Sekar Jaya, a San Franciscan based group, and associate director of Cudamani in Pengosekan, Ubud, Bali, running International Summer schools for people interested in learning gamelan.
Musical specialists advising on the programme are:
Andy Channing, the UK's foremost teacher of Balinese Gamelan
And jazz musician and composer Ray Sandoval, who is writing his doctoral thesis on Canadian composer Colin McPhee. Thanks to Emiko, Pak Dewa, all those recorded for the programme and also Gregory Ghent, D'Lo, Anjali, Ida, Danu, and all those who taught, played and were part of the Cudamani Summer School 2011
Producer: Sara Jane Hall
First broadcast in June 2012.