Main content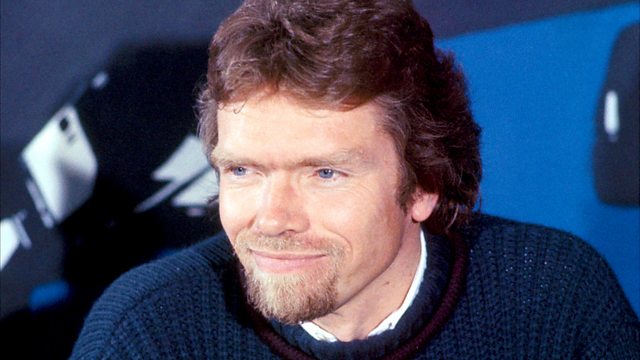 Richard Branson
4 Extra Debut. The entrepreneur and creator of the Virgin empire reflects on his life through the BBC archives. From June 2012.
The first programme in the new series of 'Meeting Myself Coming Back', the series in which leading public figures explore their lives through the BBC archives, features Sir Richard Branson in conversation with John Wilson. From his early days as the founder of "Student" magazine, to the creation of the Virgin record business and expansion into a global empire, Richard Branson has been an icon of entrepreneurship. In this interview, he meets his younger self from the sound archive and discusses his reactions with John Wilson.
He begins by hearing his 21- year old self running the influential "Student Magazine" from a basement in London and relives the way he created Virgin Records as a cut price mail order enterprise. He also hears the sound archive from 1984 when he announced the setting up of Virgin Atlantic with only one plane. We hear his memories of his daring exploits in hot air balloons and at sea and his thoughts on escaping death by a whisker.
Richard Branson also relives the episode when one of his planes flew into Baghdad airport in to bring out the British hostages held by Saddam Hussain after the invasion of Kuwait in 1990. He talks about the eerie stillness of the deserted airport, the tension of waiting and the relief when the hostages finally came on board.
We also hear his thoughts on doing business, taking knocks, political affiliation, plans for space travel and paying tax.
Producer: Emma Kingsley.