Main content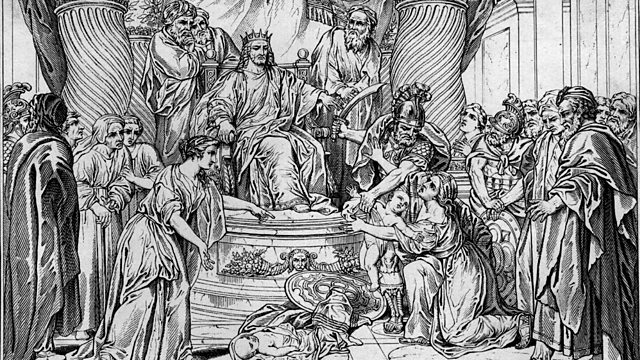 King Solomon
Melvyn Bragg and his guests discuss Solomon, the biblical king celebrated in the Old Testament for his wisdom.
Melvyn Bragg and his guests discuss the biblical king Solomon, celebrated for his wisdom and as the architect of the First Temple in Jerusalem. According to the Old Testament account of his life, Solomon was chosen as his father David's successor as Israelite king, and instead of praying for long life or wealth asked God for wisdom. In the words of the Authorised Version, "And there came of all people to hear the wisdom of Solomon, from all kings of the earth, which had heard of his wisdom." Solomon is an important figure in Judaism, Islam and Christianity alike, and is also credited with the authorship of several scriptural texts. His name is associated with the tradition of wisdom literature and with a large number of myths and legends. For many centuries Solomon was seen as the archetypal enlightened monarch, and his example influenced notions of kingship from the Middle Ages onwards.With:Martin PalmerDirector of the International Consultancy on Religion, Education, and CulturePhilip AlexanderEmeritus Professor of Jewish Studies at the University of ManchesterKatharine DellSenior Lecturer in Old Testament Studies at the University of Cambridge, and Fellow of St Catherine's College, CambridgeProducer: Thomas Morris.
Last on
Broadcasts

Featured in...
Discussion of religious movements and the theories and individuals behind them.