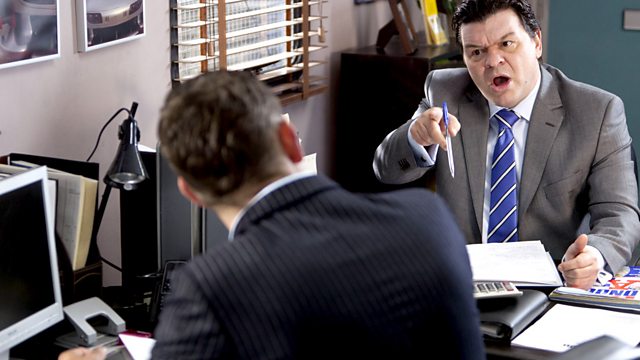 01/06/2012
Jean pleads for the VAT money back. Michael brags to Jack that Jean has a thing for him. Michael arranges to bring cash to the Vic. Janine takes it and asks why he's cancelled the wedding reception. Michael claims she deserves better, she produces a brochure for an expensive country club. Michael hurries Janine to pack for Paris and ignores Jean's frantic calls. As they're leaving, Jean demands her money. Michael's puzzled – what money? Jean's horrified as they leave in a cab.
Kim skives off preparations for the B&B opening party, and bribes Sasha to clean the toilets. Sasha offers to buy Kim theatre tickets for a customer online. Denise's frustrated that Kim's avoided all the work. Ray blames Kim for Sasha's detention after she bought tickets for Kim at school. Kim's upset and reveals to Patrick she's scared of failing. Patrick coaxes her to join the party. Sasha admits she got detention on purpose. Kim makes a speech thanking her family and friends.
Lucy gets Christian to take the 'For Sale' sign down outside the Beales'. Worried, Bobby won't go to school. Fat Boy looks after him when Zainab nosily enquires why Bobby's in the café.
A news story's been published about Andrew saving Patrick's life, raking up Heather's murder. Patrick admits he faked choking. Andrew's disgusted, but agrees to stay when Rose pleads she wants to look after him.
Zulekah wants to host speed dating at the Argee Bhajee. Tamwar's reluctant. Afia's miserable when Zainab insists the family attend the B&B party. Tamwar suggests they make the best of things. Afia agrees to host speed dating.
Derek works at the Car Lot. Jack finds Derek's tampered with the figures - he couldn't go straight if he tried. Cora gives Derek parenting advice. Derek decides to make Alice think he's going straight.
Last on
Credits
| Role | Contributor |
| --- | --- |
| Jean Slater | Gillian Wright |
| Michael Moon | Steve John Shepherd |
| Janine Butcher | Charlie Brooks |
| Kim Fox | Tameka Empson |
| Denise Fox | Diane Parish |
| Patrick Trueman | Rudolph Walker |
| Ray Dixon | Chucky Venn |
| Sasha Dixon | Rebecca Sanneh |
| Andrew Cotton | Ricky Grover |
| Rose Cotton | Polly Perkins |
| Zainab Khan | Nina Wadia |
| Masood Ahmed | Nitin Ganatra |
| Tamwar Masood | Himesh Patel |
| Afia Masood | Meryl Fernandes |
| Syed Masood | Marc Elliott |
| Christian Clarke | John Partridge |
| Roxy Mitchell | Rita Simons |
| Arthur 'Fat Boy' Chubb | Ricky Norwood |
| Lucy Beale | Hetti Bywater |
| Derek Branning | Jamie Foreman |
| Jack Branning | Scott Maslen |
| Cora Cross | Ann Mitchell |
| Mo Harris | Laila Morse |
| Bobby Beale | Alex Francis |
| Zulekha Abbasi | Lisa Shah |
| Executive Producer | Bryan Kirkwood |
| Director | Clive Arnold |
| Writer | Paul Matthew Thompson |