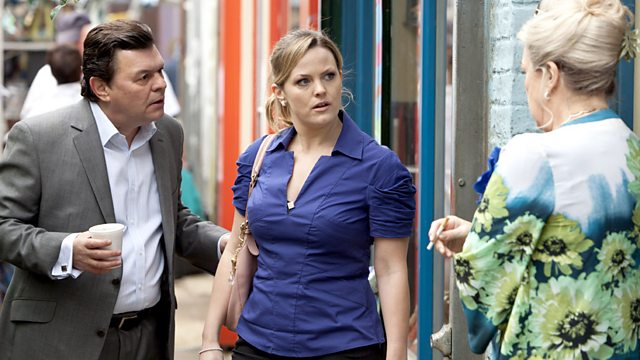 29/05/2012
Ben tells Phil that Ian's missing. Phil warns Lucy not to phone the police - Jane could take Bobby. Jay panics when Ben admits he told Ian everything. Lucy struggles in the café, fending off questions from Mo and Zainab and is grateful when Phil pays Janine a cash instalment. Phil offers to track down Ian using his bank details. Christian covers the cafe and Lucy races to her exam but misses it. Jay worries that Phil could've killed Ian. Ben tells Lucy to call the police. She's dialling when Tanya calls round on Jane's behalf. Ben asks if Phil's killed Ian. Phil swears he'd do anything to protect Ben. Lucy arrives with Ian's bank details and pleads with Phil to find him.
Tanya's annoyed Cora's asked Lauren to speak to Alice about Derek. Alice is excited Lauren wants to hang out. Cora tells Derek Alice might stop by, but Tanya declares she didn't want to see him. Alice is reluctant to leave, and visits Derek on Cora's advice. The conversation's awkward. Derek flares up when Alice admits Tanya's told her about his past. Cowed, Alice leaves. Cora gives Alice Derek's letter. Derek violently confronts Tanya - she's dead if she sticks the knife in again.
Tyler buys two ornamental lions from Zainab's charity shop offerings from Afia. Zainab discovers they're worth £200. She lies her mother left them to her, but Tyler's unmoved. Andrew's appalled and squares up to him. Patrick pretends to choke. Andrew performs the Heimlich manoeuvre. Rose heralds him as a hero. Andrew returns the lions to a guilty Zainab.
Janine wants a church wedding for Michael and arranges a visit from Reverend Stevens. Michael jokes about Janine's past three marriages. Embarrassed, Janine admits she was only doing it for Michael.
Last on
Credits
| Role | Contributor |
| --- | --- |
| Phil Mitchell | Steve McFadden |
| Lucy Beale | Hetti Bywater |
| Ben Mitchell | Joshua Pascoe |
| Jay Mitchell | Jamie Borthwick |
| Derek Branning | Jamie Foreman |
| Alice Branning | Jasmyn Banks |
| Tanya Jessop | Jo Joyner |
| Cora Cross | Ann Mitchell |
| Lauren Branning | Jacqueline Jossa |
| Whitney Dean | Shona McGarty |
| Tyler Moon | Tony Discipline |
| Andrew Cotton | Ricky Grover |
| Zainab Khan | Nina Wadia |
| Afia Masood | Meryl Fernandes |
| Rose Cotton | Polly Perkins |
| Patrick Trueman | Rudolph Walker |
| Janine Butcher | Charlie Brooks |
| Michael Moon | Steve John Shepherd |
| Mo Harris | Laila Morse |
| Christian Clarke | John Partridge |
| Bobby Beale | Alex Francis |
| Reverend Stevens | Michael Keating |
| Executive Producer | Bryan Kirkwood |
| Director | Clive Arnold |
| Writer | Rebecca Wojciechowski |