Main content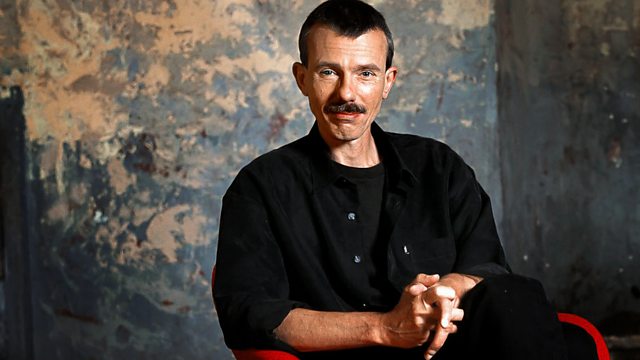 08/06/2012
Jonathan Swain presents the second of two programmes focusing on composer Samuel Barber. Featuring a selection of Barber's chamber music.
Jonathan Swain presents the second of two programmes focusing on composer Samuel Barber, today his chamber music takes centre stage.
12:31 AM
Barber, Samuel (1910-1981)
Sonata for piano (Op.26) in E flat minor
Yeol Eum Son (piano)
12:52 AM
Rodgers, Richard (1902-1979), orch. Robert Russell Bennett
Victory at Sea (suite)
West Australian Symphony Orchestra, David Measham (conductor)
12:59 AM
Barber, Samuel (1910-1981)
5 Songs (Sure on this shining night (Op.13 No.3) ; In the wilderness (Op.41 No.3, from (Despite and still for voice and piano) ; Rain has fallen (Op.10 No.1) ; Night wanderers ; I hear an army (Op.10 No.1)
Thomas Hampson (baritone), Wolfram Riger (piano)
1:13 AM
Strauss, Richard (1864 - 1949)
Don Quixote, Op, 35
Pierre Fournier (cello), Royal Concertgebouw Orchestra, George Szell (conductor)
1:54 AM
Barber, Samuel (1910-1981)
Quartet for strings (Op.11) in B minor
Jupiter String Quartet
2:11 AM
Bach, Johann Sebastian (1685-1750)
Prelude and fugue in D minor (BWV.539)
Ligita Sneibe (organ)
2:19 AM
Barber, Samuel (1910-1981)
Reincarnations for mixed chorus (Op.16)
Chanticleer, Joseph Jennings (director)
2:31 AM
Schumann, Robert (1810-1856)
Waldszenen - 9 pieces for piano (Op.82)
Stefan Bojsten (piano)
2:56 AM
Karlowicz, Mieczyslaw (1876-1909)
Serenade in G major, for strings (Op.2)
Polish Radio Chamber Orchestra "Amadeus", Agnieszka Duczmal (conductor)
3:18 AM
Tippett, Michael (1905-1998)
Five Spirituals from 'A Child of our Time' for chorus
BBC Singers, Stephen Cleobury (conductor)
3:30 AM
Torelli, Giuseppe (1658-1709)
Concerto a quattro in forma Pastorale per il Santo Natale (Op.8 No.6), 'Christmas Concerto'
Tafelmusik Baroque Orchestra, Jeanne Lamon (director)
3:37 AM
Forqueray, Jean-Baptiste (1699-1782)
La D'aubone - sarabanda (from 'Pièces de Viole, Paris, 1747')
Pierre Pitzl, Mary Jean Bolli (violas da gamba), Luciano Contini (archlute)
3:42 AM
Chopin, Frédéric (1810-1849)
Scherzo no.2 in B flat minor (Op.31)
Valerie Tryon (piano)
3:52 AM
Lipinski, Karol Józef (1790-1861)
Overture in D major
Polish Radio Symphony Orchestra in Cracow, Szymon Kawalla (conductor)
4:01 AM
Froberger, Johann Jaokob (1616-1667)
Capriccio III (FbWv503)
Pavao Masic (organ)
4:06 AM
Debussy, Claude (1862-1918)
Première rapsodie for clarinet and orchestra
Jozef Luptacik (clarinet), Slovak Radio Symphony Orchestra in Bratislava, Ludovit Rajter (conductor)
4:15 AM
Mozart, Wolfgang Amadeus (1756-1791)
Recit and aria 'Dove Sono' - from Act III of Le Nozze di Figaro, K.492
Charlotte Margiono (soprano), Netherlands Radio Philharmonic, Kenneth Montgomery (conductor)
4:21 AM
Arnold, Sir Malcolm Henry (b. 1921), arr. John P. Paynter
Little Suite for brass band No.1 (Op.80)
Edmonton Wind Ensemble, Harry Pinchin (conductor)
4:31 AM
Grossman, Ludwik (1835-1915)
Csárdás from the comic opera Duch wójewody (The Ghost of Voyvode)
Polish Radio Symphony Orchestra, Katowice, Miroslaw Blaszczyk (conductor)
4:40 AM
Bolcom, William Elden [1938-]
The Graceful Ghost - from 3 Ghost Rags
Donna Coleman (piano)
4:46 AM
Bach, Johann Sebastian (1685-1750)
Jesu, meine Freude
Dick Koomans (organ)
4:49 AM
Bach, Johann Michael (1648-1694)
Halt, was du hast
Cantus Cölln, Konrad Junghänel (director)
4:54 AM
Dane Skerl, Danijel (b.1931)
Terzo Concerto - Intonazioni Concertanti
Slovenian Philharmonic, Niklaj Aleksejev (conductor)
5:09 AM
Brahms, Johannes (1833-1897)
Trio for piano and strings No.3 in C minor (Op.101)
Tamas Major (violin), Peter Szabo (cello), Zoltán Kocsis (piano)
5:27 AM
Purcell, Henry (1659-1695)
Song 'See, see, even Night herself is here' (Z.62/11) - from The Fairy Queen, Act II Scene 3
Nancy Argenta (soprano), CBC Vancouver Orchestra, Monica Huggett (guest conductor)
5:33 AM
Szymanowski, Karol (1882-1937)
Métopes - 3 poems for piano (Op.29)
Jerzy Godziszewski (piano)
5:50 AM
Bach, Johann Sebastian (1685-1750)
Jesu, meine Freude - motet (BWV.227)
Danish National Radio Choir, Stefan Parkman (conductor)
6:12 AM
Haydn, Joseph (1732 - 1809)
Symphony No.64 in A "Tempora mutantur"
Budapest Strings, Botvay Károly (conductor).