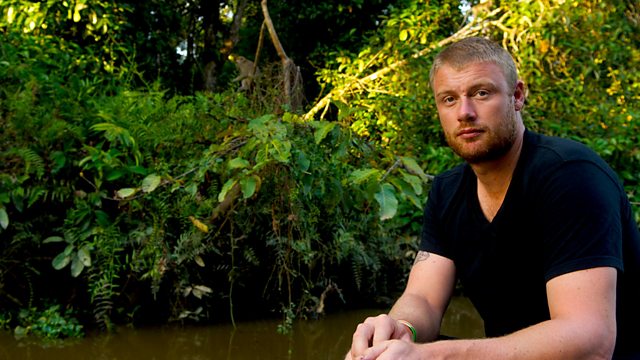 Freddie Flintoff, Louis Theroux, Alistair McGowan and Brendan Walker
Clive's bowled over by cricket legend Freddie Flintoff , who since retiring from cricket in 2010 is now a broadcasting all-rounder. He's presented on BBC Radio Five Live and was team captain on 'A League Of Their Own'. Now Freddie journeys to the far flung corners of the earth for an epic series of wildlife adventures. 'Freddie Flintoff Goes Wild' is on Discovery Channel on Thursdays at 21.00.
Jon Holmes hopes stand-up comic and actor Alistair McGowan will make a Big Impression on him and talks to Alistair about his career impersonating hundreds of famous people. He's hosting ITV's topical sports entertainment show 'You Cannot Be Serious' on Saturday nights at 19.30
Clive's at home with the world's only 'thrill engineer' Professor Brendan Walker. His new Channel 4 series celebrates the science behind the inventions and innovations that transformed the way we lived and catapulted an exhausted post-war country into the modernity of 1950's Britain. 'The House the 50s Built' begins Thursday 7th June at 21.00.
Clive has a Weird Weekend with Louis Theroux, whose broadcasting career has seen him interview anti-zoinists and white supremacists. In 1998, Louis went to San Fernando Valley, the hub of America's adult entertainment industry to find out if being a male porn star was one of the best jobs a man can have. Now Louis returns to talk to some of the performers he interviewed 15 years ago to see how they have fared. 'Twilight of the Porn Stars' is on BBC Two on Sunday 10th June at 22.00.
With music from Manchester-based alternative folk rockers The Slow Show who perform 'God Only Knows' from their EP 'Brother'.
And the new star of Bluegrass Sarah Jarosz performs 'Annabel Lee' from her album 'Follow Me Down'.
Producer Cathie Mahoney.
Last on
Listen to Loose Ends anytime, anywhere.