Main content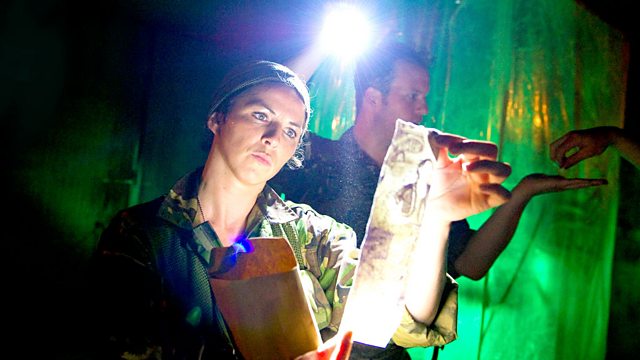 It's Fun, But Is It Theatre?
Sarah Hemming, theatre critic for the Financial Times takes a ride on the popular new, more interactive theatre trend that has been taking bums off seats over the past decade.
You may find yourself conducting a bank robbery, being dragged into a dark corner by an opera singer, feel the tickle of cobwebs run over your face in the dark, or stand two feet away from a woman who has just been raped. Immersive, site specific, site-responsive, installation - but definitely not for the faint-hearted - the interactive trend in the 21st century theatrical scene has been gathering pace and popularity.
Companies such as Punchdrunk, YouMeBumBumTrain, dreamthinkspeak, Sound and Fury and Artichoke have wowed audiences, selling out tickets, or filling city centres with spectators, wherever they have popped up, and in some cases that means in warehouses, streets or abandoned basements.
Sarah Hemming, theatre critic for the Financial Times screws her courage to the sticking point and embarks on a series of theatrical experiences, to help you decide whether you too might enjoy this type of theatre trip: the sort that doesn't involve a stage, a programme, an ice cream at the interval - oh, or a seat. Experiences can range from Lucien Bourjeily's re- enactment of imprisonment in a Syrian detention centre - "we promise you will be released at the end" ,to a magical storytelling moment by a cosy library fireplace - but is it theatre?
Talking to Felix Barrett, creator of Punchdrunk; Tristan Sharps of dreamthinkspeak; Nicky Webb from Artichoke; Sound and Fury's Dan Jones, and experiencing the full force of the improvisation medley that is YouMeBumBumTrain, Sarah boldly goes beyond the fourth wall.
Appearing for the defence, Guardian critic, Lyn Gardner, and for the prosecution Whatsonstage critic Michael Coveney.
Producer: Sara Jane Hall
(Repeat).
Last on
Broadcasts