Main content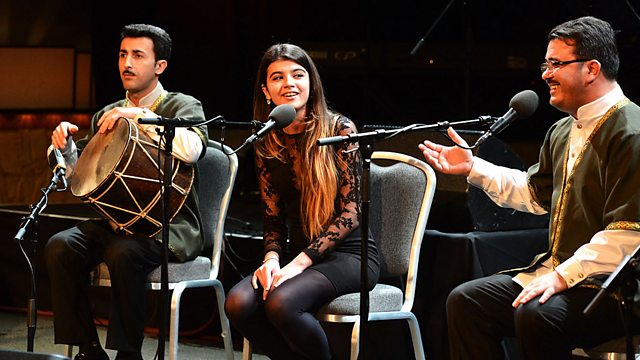 World Routes Academy - Colombian Culture in London
Lucy Duran explores how London's Colombian community keeps its culture alive. With a studio session by Roberto Pla and World Routes Academy protege Jose Hernando Arias Noguera.
Lucy Duran explores how London's Colombian community keep their culture alive so far from home. With a studio session by Roberto Pla and World Routes Academy protégé José Hernando.
A master timbale player, UK-based Roberto Pla has given a new voice to the rhythmic sounds of his native Colombia. Together with his 14-piece Latin ensemble he continues to stretch the boundaries of Colombian music by infusing it with his own mix of salsa, cumbia and Afro-Cuban jazz.
Launched in 2010, the BBC Radio 3 World Routes Academy aims to support and inspire young UK-based world music artists by bringing them together with an internationally renowned artist in the same field belonging to the same tradition. This year the scheme explores the Colombian accordion folk tradition called vallenato through the eyes of self-taught, UK based accordionist José Hernando Arias Noguera.
Growing up in a Colombian household, José fell in love with vallenato, the popular folk style from the Caribbean coast of Colombia which he learned through watching internet clips and video cassettes his father brought back from Colombia. José plays in a number of Latin music bands in London and dreams of becoming an ambassador for Vallenato music in Europe. The Colombian community constitutes the UK's second largest Latin American community, and on a global scale it ranks as the world's fourth largest overseas Colombian immigrant population. The overwhelming majority of Colombians in the UK live in London. This edition of the World Routes Academy gives an insight into Colombian cultural life in the UK and hears from a number of UK-resident Colombian movers and shakers including Landa Acevedo Scott from Colombiage, a London-based organisation promoting contemporary Colombian arts in the UK, and harpist Diego Laverde Rojas, who has lived in the UK for 12 years and plays the arpa llanera - the Colombian harp named after Los Llanos, the lowland area between Colombia and Venezuela.
Last on

Music Played
Roberto Pla in Session

BBC recording at La Bodeguita in London

Roberto Pla in Session
Broadcast