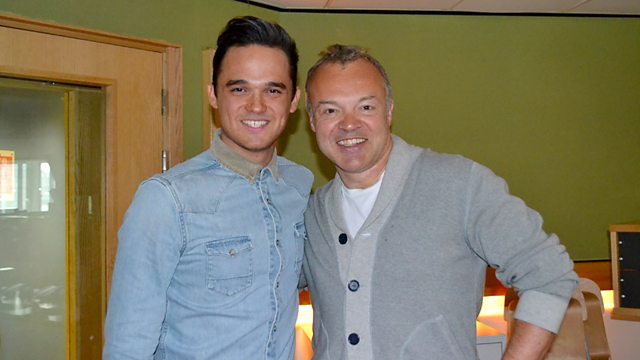 Annie Nightingale and Gareth Gates are this week's guests
With Eurovision just one week away, this week's 'I Can't Believe It's Not Better', was the UK's entry from 1980, Prima Donna's 'Love Enough For Two'. It didn't prove as popular as last week's 'One Step Further' by Bardo, but there was some fondness expressed for Eurovision tracks from the 80s...
In 'Grill Graham', Mr Norton and Alex Lester's stand-in Maria McErlane, helped Martin from Wolverhampton who was unsure on how to proceed after finding a dating app on his wife's mobile phone (you shouldn't go looking for trouble Martin!). Is she looking at it for amusement? Is she simply flirting? Or is it more serious...? Then Robert in Cardiff wanted to know how to tell his friend at work that she smells of wet dog, without hurting her feelings. Good luck with that one!
Queen of the airwaves, Annie Nightingale, was Graham's first guest of the day. She talked about how she's been on Radio 1 since 1970, how she still goes to lots of gigs and joining the Radio 2 family with the return of 'Annie Nightingale's Eternal Jukebox' which is on Jubilee Tuesday, June 5th at 8pm.
Jenny McMichael from Market Harborough chose 'Independence' by The Band Perry in 'Tune With A Tale', a song close to her heart as it's all about leaving home for the first time.
After 12, Gareth Gates popped in to talk about starring in a new British musical called 'Loserville', written by Elliot Davis and James Bourne, which opens in Leeds in June and also a one off show, 'Momentous Musicals' in Wimbledon in July. He also spoke about his stammer and how he's helped others with the same problem, starring in Les Miserrables, and how he's currently living at home with his mum making him packed lunches everyday.
Last on