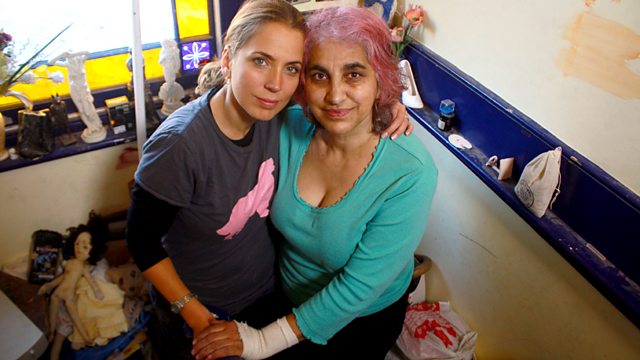 08/05/2012
TV presenter Jasmine Harman's mum Vasoulla is a compulsive hoarder. This secretive and often shameful psychological condition is putting a big strain on the entire family, and they are not alone. Up to three million British families are affected, but little is known about this disorder, and support is practically non-existent.
In 2011, Jasmine tried to help her mum tackle the extreme clutter, which had taken over the entire family home and compelled her 13 year-old brother to move out. Despite a huge family effort, only a few rooms were tidied. Jasmine searched everywhere for solutions; none seemed forthcoming. But now Jasmine thinks there might be hope.
In this programme, Jasmine calls on expert assistance to help her mum and other chronic hoarders combat the condition that is ruining their lives and those of their families.
Alan lives in a property so heavily hoarded that his wife, Marion, has nowhere to sit or wash. The council have given him just two weeks to clean up his garden; if he fails, the couple face prosecution.
Richard's hoarding has turned his home into a health hazard. The stairs are so thick with rubbish and rotting food that even moving around is dangerous.
Vasoulla, Jasmine's mum, can only fully access one of her five bedrooms. Torn between wanting a better life for her and her son, and a deep emotional attachment to her belongings, she has nonetheless agreed to a total house clearance.
Each hoarder presents a unique challenge, but together they help Jasmine understand this complex and debilitating psychological disorder. Will hoarders ever willingly clear their homes? Do new techniques and treatments really offer hope? And can hoarders ever be cured? On an intimate, emotional and deeply personal journey, Jasmine finds out.
Last on
More episodes
Previous
You are at the first episode
TV blog: An incredible response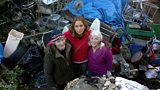 Credits
| Role | Contributor |
| --- | --- |
| Executive Producer | Dan Adamson |
| Executive Producer | Dan Adamson |
| Executive Producer | Andrew Mackenzie-Betty |
| Camera Operator | Christian Watt |
| Producer | Christian Watt |
| Director | Christian Watt |
Lifting the stigma for mum