Main content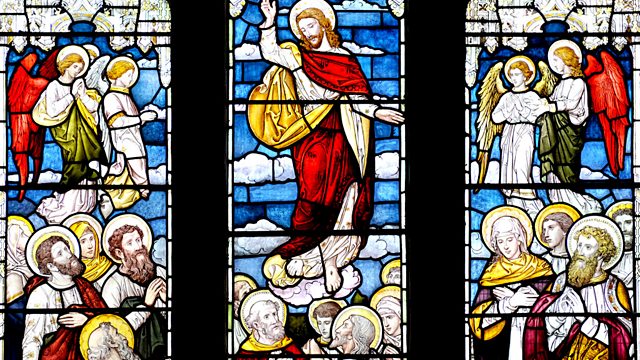 The Lost Art of Churches
4 Extra Debut. Curator Paul Bayley discovers forgotten examples of important 20th century modernist visual art in British churches. From May 2012.
Large amounts of important, modernist visual art commissioned by the Church in the twentieth century are in danger of being forgotten. No central record exists of these artworks - paintings, sculptures, stained glass, murals, tapestries and icons - many of which have even been shut away, victims of a change in fashion or worries about their vulnerability.
Paul Bayley of the ACE Trust (Art and Christian Enquiry, promoting contemporary art in UK churches) locates examples that illustrate the variety of art that can be found if you look for it.
In Hayes, Middlesex, at the Church of the Immaculate Heart of Mary, he finds Annigonni's late 1950s painting of the Madonna and Child featuring an atomic explosion rendered in gold leaf in the background. At St Johns, Waterloo, he examines two paintings by the German Jewish refugee from the Nazis, Hans Feibusch, who became probably the most prolific church artist in Britain in the last century. And in Soho, in the French-speaking Church of Notre Dame, Paul meets art restorers who have been rescuing unique murals painted by Jean Cocteau, which were damaged by graffiti and spilt soft drinks.
One of the discoveries that most excites Paul is a large crucifixion painted by Graham Sutherland in St Aidan's East Acton, in the early 1960s. But not all church art, Paul discovers, is situated in church buildings. The Methodist Art Collection was set up to be taken around the country and exhibited in different venues, and is still commissioning new work. Paul also travels to Northumberland, where, at the tiny church of St John, Healey, he sees award-winning new work in two windows created by James Hugonin and the Danish-born Anne Vibeke Mou.
Producer: Bob Dickinson
A Pennine Production for BBC Radio 4.