Main content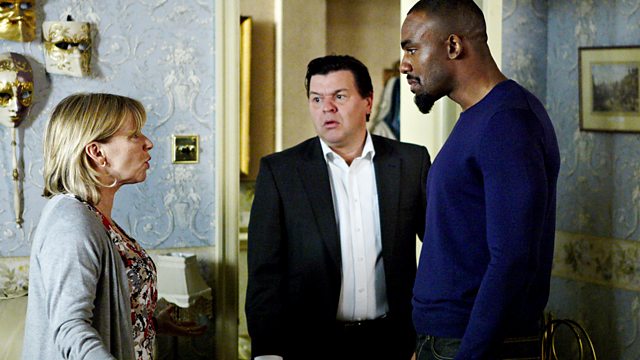 10/05/2012
Phil receives an unnerving visit from DCI Marsden, who issues him with a chilling warning about his future. The Masoods prepare excitedly for the Argee Bhajee's grand relaunch.
A girl bumps into Derek then stares at him. Derek buys Tiffany and Morgan gifts and asks Carol to give Liam the watch he originally planned to give to Joey. Realising Carol wouldn't split up the kids, Derek suggests to Morgan how much fun he could have in Walford with Ray. While Tiffany's saying goodbye to Shenice, Derek goads Ray until he storms over to the Butchers' and insists Carol can't take Morgan away. However, Ray backs down when Derek suggests asking Morgan's opinion. Defeated, Derek waves Carol and the kids off. Derek makes a phone call, he wants regular reports on the family. He fleetingly sees the girl he bumped into earlier. In the Vic, Derek calls Ray pathetic. Derek notices the girl staring again. Following her out of the Vic, he accuses her of being police. Derek's shocked when she reveals she's his daughter and she flees, dropping her phone.
Ben and Phil are keen to celebrate, the CPS are dropping their case against Ben. Marsden visits Phil. He's cocky, but so is she; one day someone close to Phil will make a mistake, if they haven't already and then she'll take the Mitchells apart, one by one.
Lucy isn't responding to Lauren's texts. Max and Tanya aren't keen to celebrate Max's birthday, but Jay and Abi talk them into a having family meal at the Argee Bhajee buffet. Lauren avoids Tanya's attempts to talk.
The Argee Bhajee prepares for its re-launch. Afia resents Zainab taking over but is equally bossy herself. Fat Boy notes the tension between Tamwar and Afia. Afia falters during her welcoming speech, Zainab takes over but Afia quickly interrupts. Fat Boy DJs. The night is a success and Afia's dismayed when Zainab suggests she and Tamwar are now set up for life.
Music Played
Timings (where shown) are from the start of the programme in hours and minutes
Credits
| Role | Contributor |
| --- | --- |
| Alice Branning | Jasmyn Banks |
| Derek Branning | Jamie Foreman |
| Carol Jackson | Lindsey Coulson |
| Jack Branning | Scott Maslen |
| Whitney Dean | Shona McGarty |
| Tiffany Butcher | Maisie Smith |
| Morgan Butcher | Devon Higgs |
| Ray Dixon | Chucky Venn |
| Max Branning | Jake Wood |
| Tanya Jessop | Jo Joyner |
| Lauren Branning | Jacqueline Jossa |
| Abi Branning | Lorna Fitzgerald |
| Phil Mitchell | Steve McFadden |
| Ben Mitchell | Joshua Pascoe |
| Jay Mitchell | Jamie Borthwick |
| Afia Masood | Meryl Fernandes |
| Tamwar Masood | Himesh Patel |
| Masood Ahmed | Nitin Ganatra |
| Zainab Khan | Nina Wadia |
| Arthur 'Fat Boy' Chubb | Ricky Norwood |
| Alfie Moon | Shane Richie |
| Shenice Quinn | Lily Harvey |
| Executive Producer | Bryan Kirkwood |
| Director | Richard Lynn |
| Writer | Nicholas Hicks-Beach |
| DCI Marsden | Sophie Stanton |