Main content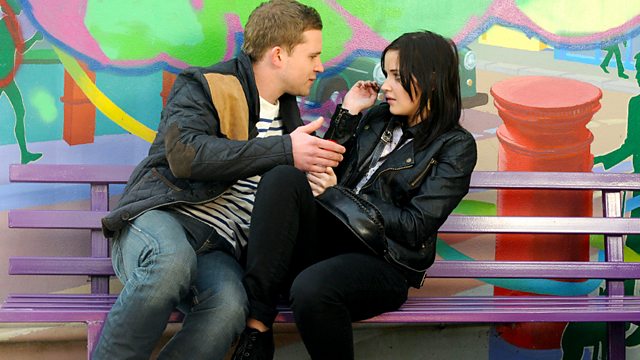 08/05/2012
Tanya and Ian panic when they discover that Lucy and Lauren have failed to return home after their night out. Afia decides to give the Argee Bhajee a makeover to improve business.
Lauren wakes alone in a hospital corridor and flees when a nurse suggests calling her mum, unaware Lucy's nearby. Lauren retreats to Whitney's and admits she can't remember what happened the night before. Lucy leaves Lauren a voicemail message. Realising Lauren's not come home, Lucy's forced to tell a concerned Ian, Tanya and Max what happened. Lauren arrives home and accuses Lucy of stabbing her in the back. Dan returns with Lauren's bag and Lauren escapes with him. Lauren drinks his vodka but leaves when Dan starts to kiss her. Listening Lucy's voicemail message, Lauren realises she's treated her unfairly. Arriving at the Beales' she apologises to Lucy. Lucy quickly realises Lauren's been drinking and slams the door on her, they're done. Alone in the street, Lauren cries.
Tamwar and Afia are re-launching the Argee Bhajee with all-you-can-eat buffets. Learning of an old school friend's success prompts Afia to think bigger. She's enthusiastic about Fat Boy's ironic Cowboys and Indians theme, but later criticises his mural. Tamwar calls Zainab, who's horrified by the theme and soon realises Tamwar didn't agree to it. She tells Tamwar and Afia they need to compromise. Afia asks Tamwar if it's wrong to want a tiny bit more.
Tiffany aces her maths test and gives the toy kitten she's awarded to Masood. Derek claims he's found a house for Carol but it won't be ready for a month. Carol insists they're leaving as planned. Whitney's uncomfortable after Derek walks in on her in the bathroom, so Tyler fits a lock on her bedroom door.
Kim mentions Morgan moving away to Ray, unaware he didn't know. Angry, Ray confronts Carol. Later, prompted by Denise, Kim apologises to Ray.
Phil cooks a curry for the boys. Jay escapes to Abi's but Phil makes Ben stay and eat.
Credits
| Role | Contributor |
| --- | --- |
| Lauren Branning | Jacqueline Jossa |
| Lucy Beale | Hetti Bywater |
| Ian Beale | Adam Woodyatt |
| Tanya Jessop | Jo Joyner |
| Max Branning | Jake Wood |
| Carol Jackson | Lindsey Coulson |
| Derek Branning | Jamie Foreman |
| Morgan Butcher | Devon Higgs |
| Tiffany Butcher | Maisie Smith |
| Whitney Dean | Shona McGarty |
| Tyler Moon | Tony Discipline |
| Afia Masood | Meryl Fernandes |
| Tamwar Masood | Himesh Patel |
| Zainab Khan | Nina Wadia |
| Masood Ahmed | Nitin Ganatra |
| Phil Mitchell | Steve McFadden |
| Ben Mitchell | Joshua Pascoe |
| Jay Mitchell | Jamie Borthwick |
| Executive Producer | Bryan Kirkwood |
| Director | Richard Lynn |
| Writer | Emer Kenny |
| Kim Fox | Tameka Empson |
| Ray Dixon | Chucky Venn |
| Denise Fox | Diane Parish |
| Arthur 'Fat Boy' Chubb | Ricky Norwood |
| Dan | William Rodell |
| Nurse | Sharon Clancy |