Main content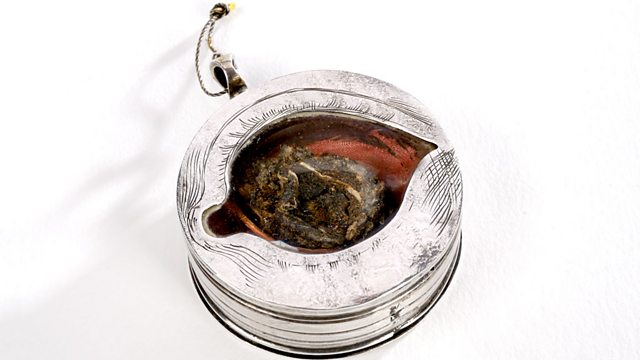 A human eyeball in a silver setting provides a striking insight into the theatre of cruelty in Elizabethan and Jacobean Britain. With Neil MacGregor. From May 2012.
Neil MacGregor, former Director of the British Museum, continues his object-based history. Taking artefacts from William Shakespeare's time, he explores how Elizabethan and Jacobean playgoers made sense of the unstable and rapidly changing world in which they lived.
With old certainties shifting around them, in a time of political and religious unrest and economic expansion, Neil asks what the plays would have meant to the public when they were first performed. He uses carefully selected objects to explore the great issues of the day that preoccupied the public and helped shape the works, and he considers what they can reveal about the concerns and beliefs of Shakespearean England.
Programme 19. THE THEATRES OF CRUELTY - A human eyeball in a silver setting provides a striking insight to the theatre of cruelty in Elizabethan and Jacobean Britain.
This programme was originally broadcast in 2012.
Producer: Paul Kobrak.
Last on
Eye Relic
Date: c.1606
Size: H:62mm, W:46mm
Made in: Unknown
Made by: Unknown
Material: Silver, organic material  
The most gruesome lines in Shakespeare are often not in the text itself, but in the stage directions. Numerous headless bodies are paraded on stage, limbs hacked off, tongues sliced out, eyes gouged from their sockets.
Shakespeare's audience would have been familiar with the brutalities of torture. Traitors were hanged, cut down while still alive and their bodies hacked to pieces in front of blood-spattered crowds.
This relic was created after one Catholic member of such a crowd managed to grab the eye of Edward Oldcorne, a gentle Catholic priest executed in 1606. His eye is preserved in this delicate silver casing, and this gruesome relic serves as a spine chilling reminder that the gruesome scenes in King Lear, Titus Andronicus and beyond would have been disconcertingly close to the real deal.
This object is from Stonyhurst College
Watch a video of the Eye Relic
British Museum Blog: The Legacy of a Gruesome Death by Jan Graffius, Curator, Stonyhurst College
Quotations
'Lest it see more, prevent it. Out, vile jelly! Where is thy lustre now?'  
King Lear, Act 3 Scene 7
Background
Oldcorne was a missionary Catholic priest who spent 16-18 years hiding and working in Worcestershire before being shopped to the authorities
Many executioners worked as butchers in their normal jobs and would regularly handle bits of bodies in front of the crowds
The authorities tried to prevent Catholics from picking up executed Jesuits' body parts that could serve as a relic - the bodies were destroyed, not displayed
Torture and torturers are mentioned 45 times in Shakespeare's plays
There are seven Shakespeare plays in which the stage directions include someone entering with a severed head
More from Radio 4: Criminals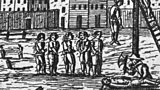 Justin Champion rifles through the popular murder pamphlets of the Elizabethan era to find out about serial killers, murderers and executioners.
More from Radio 4: Foxe's Book of Martyrs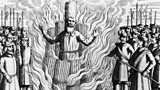 Melvyn Bragg and guests discuss Foxe's Book of Martyrs, the celebrated sixteenth-century account of the suffering of Christian martyrs.
More from Radio 4: The Jesuits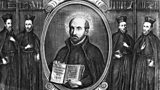 Melvyn Bragg discusses the Jesuits and their role in the education, art, politics and mythology of the Counter-Reformation.
Broadcasts

Podcast
Neil MacGregor uncovers the stories twenty objects tell us about Shakespeare's world.