Main content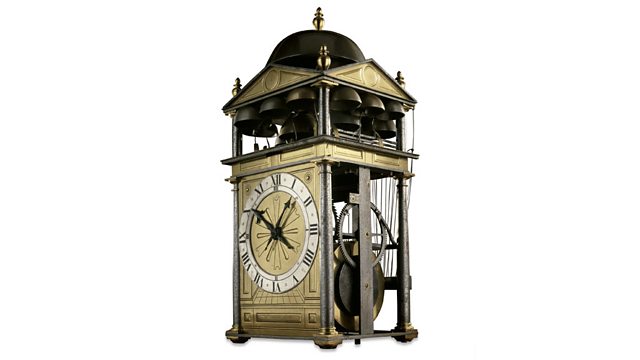 A Time of Change, a Change of Time
Neil MacGregor shows a musical striking clock. With a minute hand and quarter-hour chimes, it reveals the changing relationship Shakespeare's audiences had to time. From May 2012.
Neil MacGregor, former Director of the British Museum, enters the final week of his object-based history. Taking artefacts from William Shakespeare's time, he explores how Elizabethan and Jacobean playgoers made sense of the unstable and rapidly changing world in which they lived.
With old certainties shifting around them, in a time of political and religious unrest and economic expansion, Neil asks what the plays would have meant to the public when they were first performed. He uses carefully selected objects to explore the great issues of the day that preoccupied the public and helped shape the works, and he considers what they can reveal about the concerns and beliefs of Shakespearean England.
Programme 16 A TIME OF CHANGE, A CHANGE OF TIME - A rare domestic clock with an equally rare minute hand and quarter-hour chimes reveals the changing relationship Shakespeare's audiences had to time.
This programme was originally broadcast in 2012.
Producer: Paul Kobrak.
Last on
A Striking Musical Clock
Date: 1598
Size: H: 590mm W: 260mm L: 233mm
Made in: London
Made by: Nicholas Vallin
Material: Steel, Brass, Gold
Time hasn't always moved as fast as it does in the 20th century. Of course, this isn't true, but in today's fast-paced world of constant communication, commuting and commitments, maybe it just feels like the clock is ticking faster.
The way we perceive and organise time is shaped to a large extent by our ability to measure it. Shakespeare's audience would have been familiar with clocks and telling the time: there are over 80 references to clocks in his plays, making it clear to us that 'Shakespearean' time was well on its way to being modern time.
Public clocks, and increasingly private clocks like this one made in London in 1598, were used to orchestrate the workings of the city – and when the clock struck 2 o'clock, it was time to head to the theatre.
This object is from the British Museum
Watch a video of the Musical Clock
British Museum Blog: Perceptions of Time by Paul Glennie, University of Bristol
Quotations
'Tis no less, I tell you, for the bawdy hand of the dial is now upon the prick of noon' Romeo and Juliet, Act 2 Scene 4 'For now hath time made me his numbering clock. My thoughts are minutes, and with sighs they jar'  
Richard II, Act 5 Scene 5
Background
In 1400, there were only 25 public clocks in England but by 1500, 'telling the time' was a normal thing to do
Clock time is often addressed in negative terms: socially oppressive, against the natural order, omnipotent and all-pervasive
There are over 80 references to clocks in Shakespeare's plays
This Vallin clock is quite cutting edge in that it strikes the quarter hour and also has a minute hand - far from common in 1600
Musical clocks were rare in England at this time - though relatively well known in Germany and the Netherlands
More from Radio 4: The mechanical galleon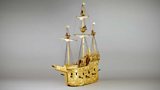 Neil MacGregor's world history explores the impact of the great age of European discovery between 1450 and 1600. Today he is with a magnificent clockwork galleon.
More from Radio 4: Time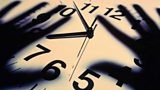 Melvyn Bragg examines the history of mankind's attempt to understand the nature of time. Does it exist independently of our perception of it, or is it merely a figment of our imagination?
More from Radio 4: Ticking Over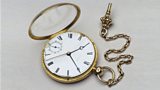 Can the Isle of Man create a revival in watch making? Peter Day finds out if we can really bring back a British tradition.
Broadcasts

Podcast
Neil MacGregor uncovers the stories twenty objects tell us about Shakespeare's world.