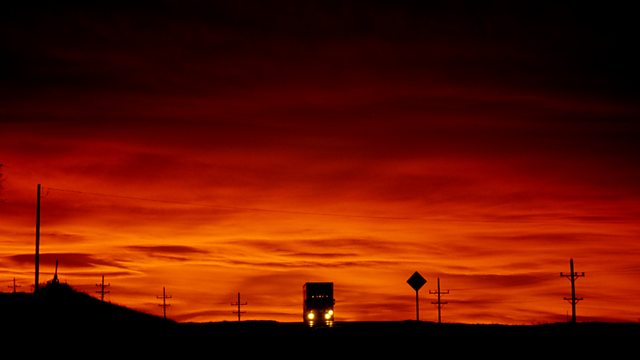 12/05/2012
Susan Sharpe present chamber music from Norway including Debussy's Cello sonata and Franck's Piano Quintet.
1:01 AM
Chausson, Ernest [1855-1899]
Poeme, Op.25 (version for violin, string quartet and piano)
Philippe Graffin (violin), Jorgen Larsen (piano), Skampa Quartet
1:16 AM
Debussy, Claude [1862-1918]
Sonata for cello and piano in D minor
Henrik Brendstrup (cello), Tor Espen Aspaas (piano)
1:30 AM
Franck, Cesar [1822-1890]
Piano Quintet in F minor
Jorgen Larsen (piano), Skampa Quartet
2:06 AM
Rimsky-Korsakov, Nikolai (1844-1908)
Sheherazade - symphonic suite (Op.35)
Romanian National Radio Orchestra, Iosif Conta (conductor)
2:50 AM
Beethoven, Ludwig van (1770-1827)
12 Variations on 'Ein Mädchen Oder Weibchen' for cello and piano (Op.66)
Danjulo Ishizaka (cello), José Gallardo (piano)
3:01 AM
Delius, Frederick (1862-1934) ed. Eric Fenby
La Calinda - concert version for orchestra from 'Koanga'
BBC Concert Orchestra, Stephen Cleobury (conductor)
3:05 AM
Stravinsky, Igor (1882-1971)
Pulcinella - ballet
Lynne Dawson (soprano), Rolando Villazón (tenor), Denis Sedov (baritone), Radio France Philharmonic Orchestra, Marc Minkowski (conductor)
3:43 AM
Sweelinck, Jan Pieterszoon (1562-1621)
Toccata C1
Pieter-Jan Belder (harpsichord)
3:47 AM
Saint-Saëns, Camille (1835-1921)
Septet for trumpet, piano and strings in E flat major (Op.65)
Ole Edvard Antonsen (trumpet), Elise Baatnes and Karolina Radziej (violins), Lars Anders Tomter (viola), Hjalmer Kvam (cello), Marius Faltby (double bass), Enrico Pace (piano)
4:05 AM
Moniuszko, Stanislaw (1819-1872)
Wilja (Wilia)
Urszula Kryger (mezzo soprano), Katarzyna Jankowska-Borzykowska (piano)
4:11 AM
Liszt, Franz (1811-1886)
Après une Lecture de Dante: Fantasia quasi Sonata - from Années de Pèlerinage: Deuxième Année (S.160 No.7)
Yuri Boukoff (piano)
4:27 AM
Bach, Johann Sebastian [1685-1750]
Concerto no. 1 in A minor BWV.1041 for violin and string orchestra
Accademia Bizantina, Stefano Montanari (violin and leader)
4:40 AM
Veana, Matías Juan de (1656-1707?)
Ay, amor, qué dulce tirano
Olga Pitarch (soprano), Accentus Austria, Thomas Wimmer (director)
4:46 AM
Mozart, Wolfgang Amadeus (1756-1791)
Sonata for violin and piano No.18 in G major (K.301)
Reka Szilvay (violin), Naoko Ichihashi (piano)
5:01 AM
Rossini, Gioachino (1792-1868)
La Gazza Ladra - Overture
Danish Radio Concert Orchestra, Roman Zeilinger (conductor)
5:11 AM
Vivaldi, Antonio (1678-1741)
Concerto for 2 cellos and orchestra in G minor (RV.531)
Maris Villeruss and Leons Veldre (cellos), Peteris Plakidis (harpsichord), Latvian Philharmony Chamber Orchestra, Tovijs Lifsics (conductor)
5:23 AM
Schumann, Robert (1810-1856)
Fantasiestücke, Op.73
Aljaz Begus (clarinet), Svjatoslav Presnjakov (piano)
5:34 AM
Fauré, Gabriel (1845-1924)
Dolly - Suite for piano duet (Op.56)
Erzsébet Tusa, Istvan Lantos (pianos)
5:48 AM
Wagenseil, Georg Christoph (1715-1777)
Concerto for trombone and orchestra in E flat
Warwick Tyrrell (trombone), Adelaide Symphony Orchestra, Nicholas Braithwaite (conductor)
5:59 AM
Shostakovich, Dmitry [1906-1975]
Symphony No.1 in F major (Op.10)
Bratislava Slovak Radio Symphony Orchestra, Ladislav Slovak (conductor)
6:31 AM
Visée, Robert de (c.1655-c.1723/3)
Logistille de Roland de Mr J.B. Lully
Yasunori Imamura (theorbo)
6:37 AM
Beethoven, Ludwig van (1770 -1827)
Piano Sonata No.18 in E flat (Op.31 No.3)
Ingrid Fliter (piano).
Last on