Main content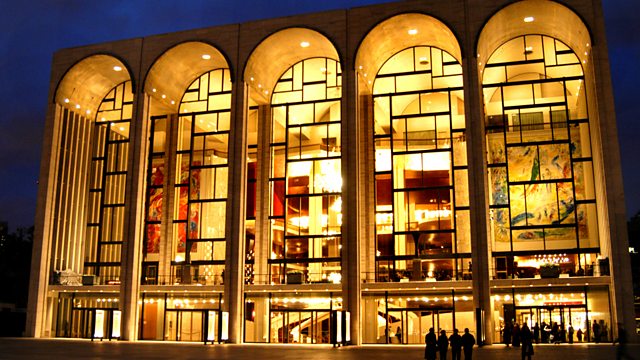 Janacek's The Makropoulos Case
Jiri Belohlavek conducts a performance of Janacek's opera The Makropoulos Case. With Karita Mattila (Emilia Marty), Richard Leech (Albert Gregor), Christopher Feigum (Baron Prus).
Janacek's The Makropoulos case
Live from The Met
Presented by Margaret Juntwait with guest commentator Ira Siff.
When, at the end of the 16th century alchemist Hieronymus Makropulos made a potion that would extend the span of human life, he tested it on his daughter Elina. She fell into a coma and Hieronymus was sent to prison. But after a week Elina woke up and fled with the formula. Three hundred years later, she is still going - but does life have any value if it goes on for ever?
Emilia Marty..... Karita Mattila (Soprano)
Albert Gregor.....Richard Leech (Tenor)
Dr Kolenaty..... Tom Fox (Bass)
Kolenaty's Clerk..... Alan Oke (Tenor)
Baron Prus..... Christopher Feigum (Baritone)
Janek..... Matthew Plenk (Tenor)
Count Hauk-Sendorf..... Bernard Fitch (Tenor)
Stagehand..... James Courtney (Bass)
Cleaning Woman..... Jane Shaulis (Mezzo-Soprano)
Chambermaid..... Edyta Kulczak (Mezzo-Soprano)
Kristina.....Emalie Savoy (soprano)
New York Metropolitan Opera Chorus
New York Metropolitan Opera Orchestra
Conductor... Jiri Belohlavek.