Main content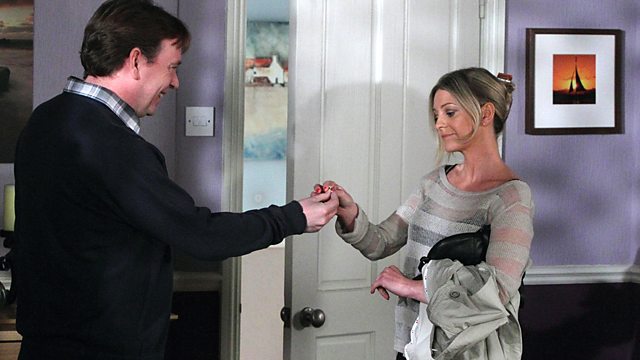 30/04/2012
Mandy's determination to repair her relationship with Ian is dealt a blow by the return of a stricken Lorraine, while Phil is aghast when Jay asks Shirley if he can live with her.
Mandy's alarmed when a sickly Lorraine approaches her. Mandy kisses Ian to distract him but he rejects her advances. When Carol quits, Mandy helps Ian at the cafe, and doesn't want her engagement ring unless Ian believes in them. Later, Mandy cares for Lorraine at home. Lorraine tells Mandy she loves her. Ian's furious and wants Lorraine gone. Mandy promises to accompany Lorraine to hospital but changes her mind when Ian gives back her engagement ring. At the tube, Mandy informs Lorraine she's putting Ian first. Lorraine falls to the floor in pain as Mandy walks away.
Carol rejects phone calls from debt collectors and Whitney's offer of help. Carol overhears Dot, Denise and Zainab gossiping about Bianca, quits her job and storms from the cafe. Derek pays off debt collectors trying to repossess the TV and suggests he move in to help out. Tiffany's outraged Derek's sat in Bianca's chair and used her mug.
Michael asks Jack to be best man. Janine worries her baby will be an angel. Michael's alarmed Janine's already spent the £8,000 and requires more. Michael pleads Jack lies to Janine that the money's from business. Jack refuses to be best man.
Roxy moves out. Phil's adamant things are better just three of them. Shirley snaps up a property from Janine that Roxy rejects. Jay pleads to move in with Shirley, and asks Abi not to call him 'Mitchell'. Ben begs Jay not to go. Jay's horrified to discover Shirley's moving into Heather's old flat. Ben's relieved as, haunted, Jay tells Shirley he can't stay.
Roxy accepts her job back at the Vic as she's now homeless. Awkward, Alfie lies Mo's coming back. However, when Roxy considers a 16th floor bedsit, Alfie takes her in.
Cora and Dot are infuriated by noisy builders working on the B&B.
Credits
| Role | Contributor |
| --- | --- |
| Mandy Salter | Nicola Stapleton |
| Lorraine Stevens | Victoria Alcock |
| Ian Beale | Adam Woodyatt |
| Shirley Carter | Linda Henry |
| Jay Mitchell | Jamie Borthwick |
| Ben Mitchell | Joshua Pascoe |
| Phil Mitchell | Steve McFadden |
| Abi Branning | Lorna Fitzgerald |
| Carol Jackson | Lindsey Coulson |
| Derek Branning | Jamie Foreman |
| Roxy Mitchell | Rita Simons |
| Janine Butcher | Charlie Brooks |
| Michael Moon | Steve John Shepherd |
| Alfie Moon | Shane Richie |
| Jean Slater | Gillian Wright |
| Jack Branning | Scott Maslen |
| Dot Branning | June Brown |
| Cora Cross | Ann Mitchell |
| Denise Fox | Diane Parish |
| Zainab Khan | Nina Wadia |
| Whitney Dean | Shona McGarty |
| Tiffany Butcher | Maisie Smith |
| Morgan Butcher | Devon Higgs |
| Debt Collector | John Henry Keating |
| Executive Producer | Bryan Kirkwood |
| Director | John Greening |
| Writer | Lauren Klee |