Main content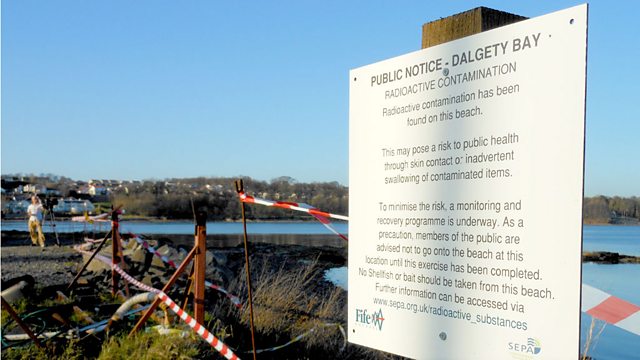 Radioactive Legacy
After radioactive particles cause the closure of a beach at a pretty bay in Fife, John Waite investigates the hazardous waste buried and forgotten by the Ministry of Defence.
A pretty town on the Fife coast remains under threat of an unwelcome distinction. A corner of Dalgety Bay could still become the first place in Britain to be branded as radioactive contaminated land if the Ministry of Defence does not follow through on a plan to deal with radioactive particles washing up on its shore. The MOD's accused of causing the contamination in the first place: aircraft containing potentially hazardous radium were smashed up and buried after the Second World War. The MOD's investigating the scale of the problem and ways it might be put right, but has not promised a full and final clean-up of the bay. That's despite calls for it to do so from the local MP and former Prime Minister, Gordon Brown, and a recent discovery of particles far more radioactive than those previously found. Yet Face the Facts reveals how the MOD has cleaned up other sites deemed far less radioactive; how it's sold off contaminated land for development with radium undetected; how a lack of records means it does not know where similar sites might be and how a confidential government report we've seen from the 1950s warned of the danger of radium dumps being forgotten or, in the case of privately-owned land, deliberately concealed.
Presenter: John Waite
Producer: Jon Douglas.
Last on
Broadcast