Main content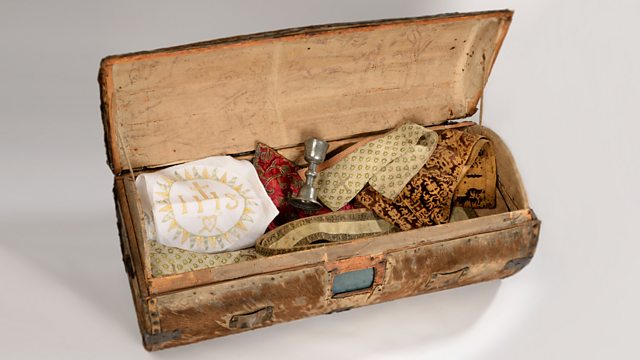 Neil MacGregor reveals deception and religion, cross-dressing and travelling salesmen, all unpacked via a pedlar's trunk. From May 2012.
Neil MacGregor, former Director of the British Museum, continues his object-based history. Taking artefacts from William Shakespeare's time, he explores how Elizabethan and Jacobean playgoers made sense of the unstable and rapidly changing world in which they lived.
With old certainties shifting around them, in a time of political and religious unrest and economic expansion, Neil asks what the plays would have meant to the public when they were first performed. He uses carefully selected objects to explore the great issues of the day that preoccupied the public and helped shape the works, and he considers what they can reveal about the concerns and beliefs of Shakespearean England.
Programme 14. DISGUISE & DECEPTION - Deception and religion, cross-dressing and travelling salesmen are all unpacked via a pedlar's trunk.
This programme was originally broadcast in 2012.
Producer: Paul Kobrak.
Last on
A Pedlar's Trunk
Date: c.1600-1630  
Size: H (closed):345mm, W:850mm, L:370mm  
Made in: Unknown  
Made by: Unknown  
Material: Wood, Pony skin, Paper, Textiles
There were all sorts of people travelling the roads in Shakespeare's day. Many were just tramps or petty thieves but walking amongst them were some people known as 'pedlars'.
Although they operated on the fringes of society, pedlars were welcome arrivals in the towns and villages of England (land?) because, at a time when a village shop was not common, they brought with them all manner of fine wares for sale. Pedlars also brought with them news, scandal and gossip from other villages…and once they had made their sales, they would be off to the next village for more of the same.
This particular pedlar's trunk holds a secret that its owner certainly wouldn't have wanted to be known to people in the street. For the owner of this trunk disguise wasn't just a dramatic device used by actors on the stage, it was a matter of life or death.
This object is from Stonyhurst College
Watch a video of the Pedlar's Trunk
British Museum Blog: The role of the pedlar by Margaret Spufford, historian
Quotations
'Any silk, any thread, Any toys for your head,Of the new'st and fin'st, fin'st wear-a? Come to the pedlar; Money's a meddler That doth utter all men's wear-a'  
A Winter's Tale, Act 4 Scene 4
Background
This chest is typical of a type used by pedlars (travelling salesmen) who sold threads, sewing materials and small household items
The contents of the trunk contain virtually everything necessary for a Catholic priect to perform Mass
Disguise in Shakespeare's plays is a fairly light-hearted affair and is used frequently in his comedy plays
Perhaps the only disguise of any importance in the tragedies is Edgar's role as Poor Tom in King Lear
More from Radio 4: Toleration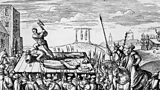 Melvyn Bragg discusses what had happened in England to make diverse religions 'tolerable'. What was the philosophy and politics behind the idea of toleration, and does it differ from tolerance?
More from Radio 4: Anne Askew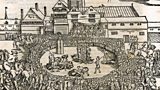 Bettany Hughes tells the stories of women denied their families by the march of history. Tudor housewife Anne Askew's conversion to Protestantism tore her family apart.
Broadcasts

Podcast
Neil MacGregor uncovers the stories twenty objects tell us about Shakespeare's world.