Main content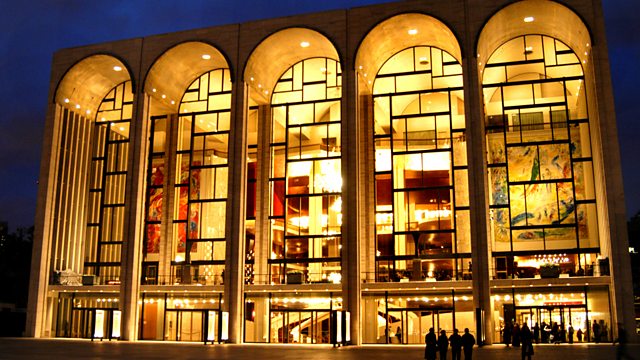 Wagner's Die Walkure
From the Metropolitan Opera in New York, Fabio Luisi conducts part two of Wagner's Ring Cycle, Die Walkure. With Katarina Dalayman, Bryn Terfel and Frank Van Aken.
Wagner's Die Walkure
Live from The Met
Part two of Wagner's Ring Cycle, in which Siegmund and his sister Sieglinde fall in love with each other, and Brunnhilde is banished to a fire-surrounded rock by her father, Wotan, for disobeying him. Only a hero will be able to break through the flames to rescue her - could Sieglinde's unborn baby Siegfried be the man Brunnhilde is waiting for? The Met's production of Die Walkure has a stellar cast including Eva-Maria Westbroek, Katarina Dalayman, Frank Van Aken and Bryn Terfel.
Presented by Margaret Juntwait with guest commentator Ira Siff.
Siegmund.....Frank Van Aken (Tenor)*
Sieglinde..... Eva-Maria Westbroek (Soprano)
Hunding.....HansPeter Konig (Bass)
Wotan.....Bryn Terfel (Baritone)
Fricka.....Stephanie Blythe (Mezzo-Soprano)
Brunnhilde.....Katarina Dalayman (Soprano)
Gerhilde.....Kellie Cae Hogan (Soprano)
Ortlinde.....Wendy Bryn Harmer (Soprano)
Waltraute.....Marjorie Elinor Dix (Soprano)
Schwertleite.....Mary Phillips (Soprano)
Helmwige.....Molly Fillmore (Soprano)
Seigrune.....Eve Gigliotti (Mezzo-Soprano)
Grimgerde.....Mary Ann Mccormick (Mezzo-Soprano)
Rossweisse.....Lindsay Ammann (Mezzo-Soprano)
New York Metropolitan Opera Orchestra
New York Metropolitan Opera Chorus
Fabio Luisi.....Conductor
*Frank Van Aken replaces Jonas Kaufmann.