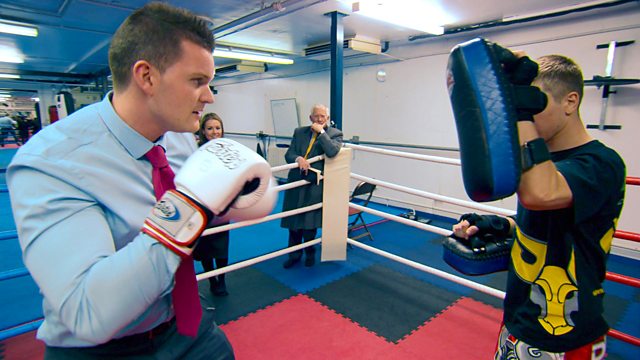 Lord Sugar turns the candidates' attentions towards the highly profitable keep fit industry. The teams have two days to devise and brand a new fitness class that reflects recent popular trends like Zumba or Body Pump, which attract gym members to classes in big numbers. They must then pitch their routines to leading health and fitness chains, who will pay for the rights to run them if they like what they see.
With advice from a fitness expert who is impressed with the concept, one team opts for street dance merged with martial arts in the hope it will win them big orders. The other team turn back the clock; inspired by a 1980s dance troupe they adopt a strictly retro style, incorporating hula hoops and space-hoppers. On day two both teams direct a promotional video to showcase their efforts, but theatrical temperament takes centre stage and there are fights, frustrations and a failure to follow the script.
When it comes to pitching to the health clubs, one team is slick and professional while the other gets in a muddle over exactly what it can offer the gyms and still make a profit. The videos are shown, and when buyers struggle to keep a straight face it seems that one team has seriously misjudged the market. But it's still a fight to the finish until Lord Sugar delivers the knockout blow with the fateful words 'You're fired'.
Last on
Credits
| Role | Contributor |
| --- | --- |
| Participant | Lord Sugar |
| Participant | Lord Sugar |
| Participant | Lord Sugar |
| Participant | Nick Hewer |
| Participant | Nick Hewer |
| Participant | Nick Hewer |
| Participant | Karren Brady |
| Participant | Karren Brady |
| Participant | Karren Brady |
| Executive Producer | Michele Kurland |
| Executive Producer | Michele Kurland |
| Executive Producer | Michele Kurland |
| Executive Producer | Peter Moore |
| Executive Producer | Peter Moore |
| Executive Producer | Peter Moore |
| Series Producer | Cate Hall |
| Series Producer | Cate Hall |
| Series Producer | Cate Hall |