Main content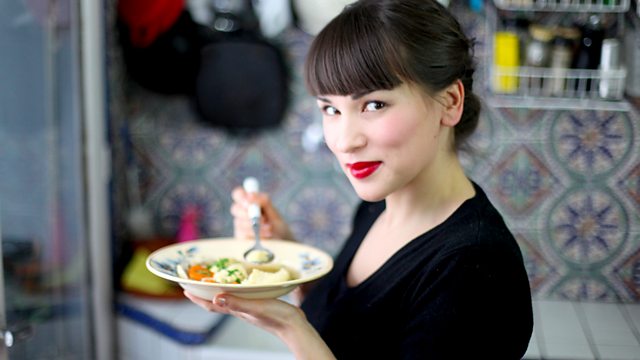 Rachel Khoo shows how to make French cuisine the easy way. Here she prepares gourmet garnishes with a Parisian chef and makes lentil and goat's cheese salad and iles flottantes.
Croydon-born food writer Rachel Khoo opens up her pint-sized Paris kitchen to cook up her favourite French dishes, for the penultimate time in this series. Rachel's straightforward approach to contemporary and classic cuisine proves that making French food can be simple and remain sumptuous.
Across six episodes, Rachel introduces us to her style of French food, serving up appetizing meals from luscious lunches to impressive dinners. Rachel also explores the diverse cuisines of Paris, meeting the multicultural food vendors, manufacturers and restaurateurs of the French capital.
In this enticing episode, Rachel serves the lightest of desserts - iles flottantes - where delicately poached meringues drift on the creamiest vanilla custard. She samples exquisite Normandy oysters at a stall offering five succulent varieties, then prepares gourmet garnishes with a Parisian chef. Finally, Rachel visits one of Paris's finest street markets and encounters Joel Thiebault, the French 'king of vegetables'. Joel sells to the world's top chefs and today Rachel is looking for succulent beetroot for her superb lentil and goat's cheese salad.
Credits
| Role | Contributor |
| --- | --- |
| Presenter | Rachel Khoo |
| Executive Producer | Stuart Cabb |
| Executive Producer | Will Daws |
| Director | Ed St Giles |