Main content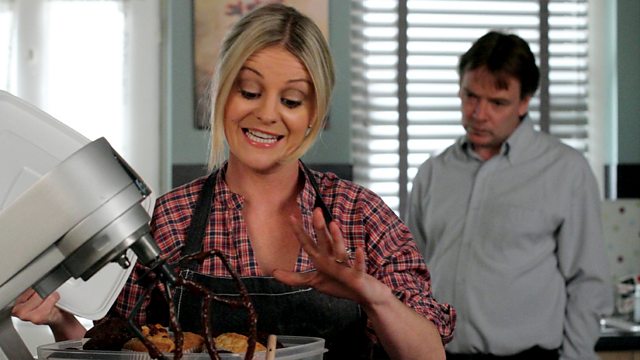 17/04/2012
Bianca is left humiliated after she causes a scene in the Vic over a mistaken judgement about Shenice. Mandy's attempts to make things up to Ian suffer a setback, thanks to Derek.
Mandy insists she didn't sleep with Alex. Ian won't discuss it. Mandy's desperate to make the café a success. Bianca's un-cooperative, Mandy reminds her Ian's impressed by money. The café's soon buzzing, but Ian's angry when Derek leers Mandy was flirting with him. Dot's concerned about Ian, and pleads for Lucy's help. She coldly refuses. Mandy's proud after a successful day's work, Ian insists he didn't buy the café to make money.
Roxy and Alfie share breakfast. Roxy's touched when Alfie offers to look after a poorly Amy. Later, Roxy's evasive about her new man. Christian concludes he's married. In the Vic, Alfie spots Derek manhandling Roxy and angrily warns him away. Christian and Derek clock a tender look between them. Christian confronts Roxy – when's she going to tell Alfie she loves him?
Tiffany steals more of Bianca's lip gloss. Roxy shows Bianca a new lip gloss from Shenice. Tiffany's teacher arrives, concerned that Bianca missed Parents Evening and wants to get Tiffany help with Maths. Discovering her lip glosses missing, Bianca heads to the Vic. Max and Derek mock Bianca's make- up business. Bianca accuses Shenice of stealing. Shenice insists Tiffany's been giving lip gloss away. Angry Roxy goes for Bianca. Derek and Jack intervene. Back at the café, Bianca confesses to Mandy she's taken out loans she can't pay. Tiffany explains she only stole to keep her friends.
Roxy advises Phil to do something when depressed Shirley mopes over Heather's belongings. Phil insists Ben returns to school. Shirley's outraged when Phil moves Heather's things - Andrew's coming round to go through them. Ben's confident his psychiatric report will mean he can leave school. Phil diverts Andrew by employing him at R&R but later finds him reminiscing about Heather with Shirley, having swapped shifts.
Jack's off to see Penny in France tomorrow.
Credits
| Role | Contributor |
| --- | --- |
| Roxy Mitchell | Rita Simons |
| Christian Clarke | John Partridge |
| Alfie Moon | Shane Richie |
| Mandy Salter | Nicola Stapleton |
| Ian Beale | Adam Woodyatt |
| Bianca Butcher | Patsy Palmer |
| Derek Branning | Jamie Foreman |
| Max Branning | Jake Wood |
| Jack Branning | Scott Maslen |
| Phil Mitchell | Steve McFadden |
| Shirley Carter | Linda Henry |
| Ben Mitchell | Joshua Pascoe |
| Jay Mitchell | Jamie Borthwick |
| Abi Branning | Lorna Fitzgerald |
| Andrew Cotton | Ricky Grover |
| Dot Branning | June Brown |
| Lucy Beale | Hetti Bywater |
| Carol Jackson | Lindsey Coulson |
| Tiffany Butcher | Maisie Smith |
| Shenice Quinn | Lily Harvey |
| Morgan Butcher | Devon Higgs |
| Jean Slater | Mercy Ojelade |
| Executive Producer | Bryan Kirkwood |
| Director | Tim Mercier |
| Writer | Rob Williams |