Main content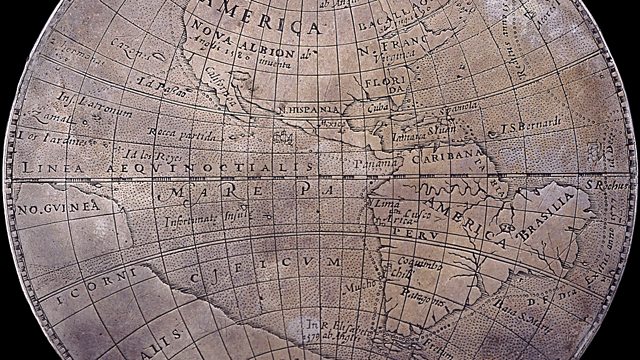 Ireland: Failures in the Present
Neil MacGregor of the British Museum explains how a rare woodcut reveals the troubles and tragedies of Elizabethan Ireland. From April 2012.
Neil MacGregor, Director of the British Museum, continues his new object-based history. Taking artefacts from William Shakespeare's time, he explores how Elizabethan and Jacobean playgoers made sense of the unstable and rapidly changing world in which they lived.
With old certainties shifting around them, in a time of political and religious unrest and economic expansion, Neil asks what the plays would have meant to the public when they were first performed. He uses carefully selected objects to explore the great issues of the day that preoccupied the public and helped shape the works, and he considers what they can reveal about the concerns and beliefs of Shakespearean England.
Programme 7. IRELAND: FAILURES IN THE PRESENT - A rare woodcut offers a equally rare visual impression of the troubles and tragedies of Elizabethan Ireland.
Producer: Paul Kobrak.
Last on
A Dangerous Image of Ireland
Date: 1581  
Size: H:205mm, W:320mm  
Made in: London  
Made by: John Derricke  
Material: Paper
Why is it that Shakespeare gave us a Scottish play, and Scottish and Welsh characters in abundance, and yet in his entire works there is only one Irish character?
The answer has much more to do with national politics than artistic inspiration. The war in Ireland was the great military crisis of the Elizabethan regime – almost resulting in failure for England – and as a result it was a topic prone to censorship.
While we can glean a lot about the issues presented by Ireland from the many references in Shakespeare's plays, this book, The Image of Ireland, published in 1581, perhaps allows us best to reconstruct what his audience might have known and thought about the Irish.
And if you're still wondering who the one Irish character is, then you'll have to listen to the programme…
This object is from Edinburgh University Library
British Museum Blog: English perspectives on Ireland by Andrew Hadfield, University of Sussex
Quotations
'Th'uncivil kerns of Ireland are in arms/And temper clay with blood of Englishmen;/ To Ireland will you lead a band of men .../And try your hap against the Irishmen?'  
Henry VI part 2, Act 3 Scene 1
'The Duke of York is newly come from Ireland,/And with a puissant and a mighty power/Of gallowglasses and stout kerns/Is marching hitherward in proud array.'  
Henry VI part 2, Act 4 Scene 9
Background
The scarcity of Irish artefacts from this period makes Derricke's work one of the leading sources for the Irish experience in the late Tudor age
The plates tell the story of the subjugation of Irish rebels by Sir Henry Sidney, Lord Deputy of Ireland, detailing his triumphs against the native Irish - many probably witnessed by the author
Derricke's plates have been called the finest woodcuts made in a 16th century English book
Only one Irish character appears in a play by Shakespeare - Captain Macmorris in Henry V (and he's actually Anglo-Irish)
A lot of academic ink has been spilled on what was meant by Macmorris' expostulation on 'What ish my nation?' in Henry V, Act 3 Scene 2
More from Radio 4: Elizabeth I and Ireland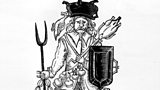 By the 16th Century, Ireland had become a problem for the British. Narrated by Juliet Stevenson, with readings by Anna Massey, Robert Powell and Rob Brydon.
More from Radio 4: Martin Frobisher and Fool's Gold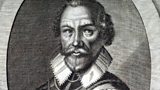 The history of British explorers and routes to China in the 1570s. Narrated by Juliet Stevenson.
More from Radio 4: The Plantation of Ireland in The Counties of Armagh and Tyrone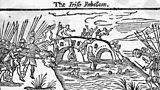 Melvyn Bragg travels to Northern Ireland to investigate the lot of the native Irish workers at the end of Elizabethan era and the history of the Ulster Plantation.
Broadcasts

Podcast
Neil MacGregor uncovers the stories twenty objects tell us about Shakespeare's world.